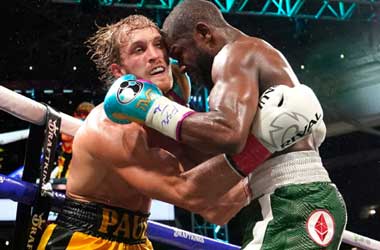 Hardcore boxing fans may not have tuned in to the Floyd Mayweather vs. Logan Paul exhibition fight on Sunday, June 6 but millions of new boxing fans bought the Showtime pay-per view while millions of other fans illegally streamed the fight.
Mayweather had massive betting odds going into the fight as he was fighting a YouTube and social media star that had a 0-1 record.
However, Logan Paul was the younger fighter at 26 and had a 30 pound advantage of the 44 year old Floyd Mayweather.
The exhibition fight comprised of 8 x 3 minute rounds and was not sanctioned as an official boxing fight due to the difference in size of each opponent.
The rules stated that the judges will not announce a decision but a KO would be allowed and a TKO based on the referee's decision. The referee did not have to make a decision as the fight went the distance and in a way was definitely a victory for Logan Paul.
CBS Sports HQ
The first two rounds did not have a lot of action as Logan Paul went after Mayweather with big punches and did not find anyone home. Mayweather either needed a couple of rounds to gauge Paul's speed and style or he was playing with the crowd in order to give them their money's worth.
Mayweather started turning on the heat from the third round as he started walking down Paul who started getting tired as the fight progressed. Money Mayweather did land a few punishing shots to the body and a couple of left hooks to the head but Logan Paul ate them and did not get wobbled.
Another Big Payday For Mayweather
Mayweather did his best to try and KO his opponent but Paul had enough training to clinch and evade a lot of the shots. Towards the end, Paul started to taunt Mayweather as he realized that the fight was going to go the distance and that in itself was a victory for the YouTuber.
Mayweather would have definitely won the fight if the judges were involved but will be a tad disappointed that he was unable to stop Logan Paul. However, Mayweather isn't going to let that bother him as he is set to collect close to $100 million for this exhibition fight.
Mayweather showered Logan Paul with praise after the fight and did not rule out an exhibition fight with Jake Paul, younger brother to Logan Paul.