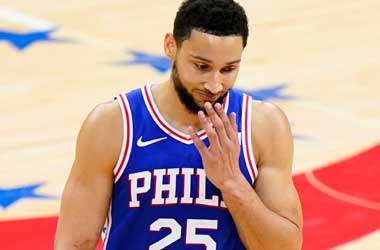 Summary
Ben Simmons to be part of the Brooklyn Nets when they play the Philadelphia 76ers
Simmons left the 76ers after a fallout and is now part of the Brooklyn Nets
The Aussie star is expected to sue the 76ers for A$27M in dues
Three time NBA Aussie All-Star Ben Simmons might file a formal grievance against his former team Philadelphia 76ers for retaining approximately A$27 million of his salary.
Currently, the small forward yet to play a game in the NBA this season as he is dealing with back soreness.
Simmons was traded to the Brooklyn Nets in January 2022 after a prolonged standoff with the 76ers. Before being traded, he did not travel or undergo training sessions with the former. Simmons had cited that he wished to focus on his mental health when he took some time off from the 76ers.
However, Simmons' grievances with the 76ers go back to November 2021. NBA insider Shams Charania disclosed that the 76ers had withheld Simmons' dues irrespective of his mental health problems. The team had held back the payments due to Simmons' refusal to participate in the team's training sessions. The small forward had also refused to be with the 76ers on game day.
It was revealed on 8 March 2022 that Simmons would be present on the sidelines with the Brooklyn Nets during the game on 10 March since he joined them and would continue to do so when the 76ers and the Nets face each other at Philadelphia's Wells Fargo Center.
The 25-year-old will make his first public appearance after he refused to be with the 76ers. It is expected that a hostile crowd would welcome Simmons at the Wells Fargo Center. Journalist Kyle Neubeck opined that the public outrage would strengthen Simmons' case against the 76ers. It will give him a reason to cite his inability to be with his former team amidst an intense trade standoff.
Public Outrage to Bolster Simmons' Case
Simmon's presence on the game day might set the tone for his and Klutch Sports' argument while the grievance is being filed. Neubeck hinted at the reports of a tough security presence to shield Simmons from the angered public, which have been circulating since 8 March. He added that Simmons' attendance would support his case for not fulfilling his duties towards the 76ers and his unwillingness to continue with them before being dealt.
League sources expect the Australian NBA Star and his representation to file their grievance against the 76ers somewhere in the coming weeks.