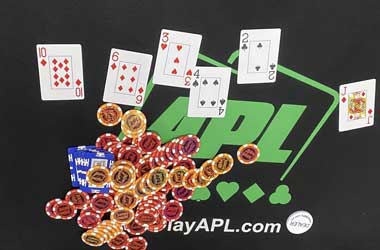 The last two years have been difficult for live poker. Due to the ongoing pandemic, poker tournaments have been postponed worldwide, including Australia.
Although the Australian Poker League (APL) hosted numerous events this year, the big tour is yet to return. With that in mind, 2022 seems to be looking good as the APL has announced a poker tour for Australia.
Poker fans can rejoice as the first main event will start at the beginning of January. The APLPT (Australian Poker League Poker Tour) will commence on January 6 and end three days later at Southport Sharks. Those four days will include 21 events, from Thursday to Sunday.
What's more, players can already qualify for the Main Event. The first qualifying rounds started on December 4 and will end on the first day of the New Year. Each of the five flights calls for $175 buy-ins, with a single re-entry for each flight allowed.
Players can contest in multiple flights and carry their largest stack to the second day, set to occur on January 9 at Southport Sharks. Before the APLPT starts, the remaining flight is scheduled for New Year's Day at Club Beenleigh.
If you're interested in the complete schedule, take a look below.
Date
Event
January 6
$120 NLHE Opening Event
$80 Crazy Pineapple
$600 NLHE Deep Freeze
$80 NLHE Masters (50 y.o.+)
January 6-7
$2,500 The Centurion NLHE
January 6-9
$175 NLHE Main Event (five flights) (prize pool ~$100K)
January 7
$80 NLHE Southport Sharks Turbo Deepstack
$80 NLHE Friday Freezeout
$80 NLHE Ladies Event
$120 NLHE Terminator
$350 NLHE 6-Max
January 7-8
$1,250 NLHE Jackstar Super High Roller
January 8
$80 NLHE Saturday Night Hyper Turbo
$200 NLHE Teams Event
$120 Big NLH120
$450 NLHE Mini High Roller
January 9
$80 PLO
$80 Sunday NLHE
$300 PLO 8-Max
$350 NLHE Monster Stack
$60 NLHE Freezeout Finisher
Now that we got Queensland events cleared up let's move onto Victoria and APL's second stop. The Melbourne tournament will take place February 3–6 in St. Albans at the Club Italia Sporting Club. The APLPT will also host 21 events with an estimated prize pool of $750,000, and the main event will host multiple flights, each requiring a $180 buy-in.
Players from the Queensland tournament can qualify for the quarterly APL Million by stacking points. They can do so by finishing in the top 5 on the event leaderboard, top 10 on the regional leaderboard, and top 20 on the state leaderboard. Each of these events will award a minimum of $8,000 cash and eight seats for the APL Million.