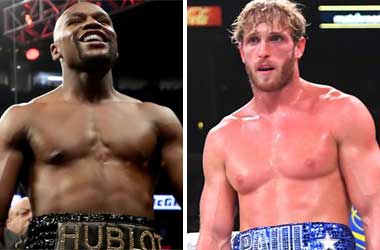 Floyd Mayweather is set to end his in-ring retirement for an exhibition boxing bout against YouTuber turned pro boxer, Logan Paul, originally scheduled for February it is now set for June 6 at Hard Rock Stadium in Miami, Florida.
This bizarre clash of styles is set to have fans in attendance and will have a clear weight disparity between the two, with Mayweather being the far smaller man to Paul.
It will serve as only the second exhibition bout of Floyd's career after his resounding win over Tenshin Nasukawa in Japan back in December 2018.
Paul, on the other hand, is taking time out of his many other 'superstar' duties to take on a boxer many call one of the greatest of all time.
There will be no major world title on the line as a result of it being an exhibition, with the fight as a whole being billed as "Bragging Rights".
Best Betting Sites To Bet On "Bragging Rights" fight
The circus show for the ages
The chaotic rise of YouTuber boxing and celebrity boxing, has created quite the sub-genre within the sport. While Logan Paul may be the one getting the shot at Floyd Mayweather, it's his brother Jake Paul who is making the most noise in this space. In addition to securing knockout wins over Nate Robinson and Ben Askren, Jake aka "The Problem Child" also stole Mayweather's hat and created quite the scene at the press conference event for this fight.
There are fans set to be in attendance for this one despite the COVID-19 pandemic, with the increased vaccination rates leading to the state of Florida opening up for supporters to attend. It will go down on a Sunday night as opposed to the traditional Saturday slot we see for most big fights, with Showtime PPV in the United States reportedly agreeing to broadcast the unusual showdown.
The United Kingdom will also be broadcasting this extravaganza through the Sky Sports Box Office channel, with a parade of musical guests being tipped to appear in what is becoming the norm for these blockbuster occasions.
It may not be for everyone, but Triller Fight Club has laid down the blueprint for what – scarily enough – could be the future of the sport.
SHOWTIME Sports
Things to Watch For
* Odds have been provided by BetOnline and are accurate as of 25/05/2021
Floyd Mayweather (50-0)
Current Odds: +700 (1.06)
Floyd "Money" Mayweather has made his millions over the years in the sport of boxing but even at the age of 44, he still isn't ready to walk away. Whether that be due to his love of the sport or simply because he wants to cash in, you won't find many casual fans that care – so long as they get to see the legend in action.
His last professional outing was the win over Conor McGregor that took him to 50-0. The Irishman, ironically enough, is now being linked with a potential fight against Logan Paul's brother Jake at some point in the future.
As for Floyd, he just has to hope age and the size factor doesn't catch up to him here. A defeat wouldn't actually go on his pro record as a result of it being an exhibition, but the image of him either being knocked down or knocked out entirely would forever be etched into the mind of all those who tune in to watch.
Logan Paul (0-1)
Current Odds: -1500 (8.00)
Logan "The Maverick" Paul has been through too many controversies to list throughout his time in the limelight and something tells us that trend isn't going to stop anytime soon. Still, he's turning some kind of corner, and he's doing so through the use of both his YouTube career and his venture into the world of boxing.
After one amateur fight against YouTube rival KSI that ended in a draw, Paul made the jump up to the pros in November 2019 for the rematch. On that infamous night, he was unable to get the better of his British rival, losing a tight split decision at the Staples Center in Los Angeles, California.
Despite his only pro boxing fight being a defeat, Logan is the Paul brother who has been given a golden opportunity in the form of this contest.
Prediction
The only thing that Logan Paul has going for him is that he's far bigger and he's the younger man by quite some distance. Plus, combat sports can be unbelievably chaotic and unpredictable at the best of times, which opens up the door for an upset here.
Nobody is going to pretend like this will do anything for Floyd Mayweather's unbeaten 50-0 pro record, which remains intact. At the same time, it'll be intriguing to see how Floyd looks as he continues to age.
The obvious prediction is the one we're going with and it's that Floyd Mayweather will score a convincing and early win within the first 4-5 rounds of the fight, likely via corner stoppage if Logan suffers enough abuse.
This could lead us down the road of Floyd also going on to fight his brother Jake because, as we all know, this market is becoming progressively more lucrative with each passing day.
The long reach and jab of Logan Paul could prove to be effective if he gets his timing right, but we're talking about one of the most defensive boxers in the history of the sport.
We also predict this is going to sell well over one million pay-per-view buys because of course it is. Whether you like it or not these two have some serious name value and that's precisely what you need to make for a big PPV in the modern era.
There are going to be plenty of streams out there that will be taken down, but those who purchase the $49.99 event will likely be given a whole lot more than just what the main event has to offer – whether they want a variety show or not.