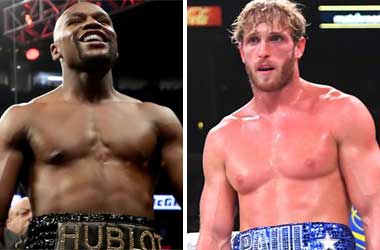 Floyd 'Money' Mayweather used his Instagram to announce that he will be boxing YouTube star Logan Paul in an exhibition fight scheduled take place on February 20, 2021. Mayweather has not fought professionally since his last fight in 2017 against MMA star Conor McGregor.
Mayweather fought Tenshin Nasukawa in Tokyo, Japan in 2018 on New Year's eve in an exhibition bout that last around 2 minutes. Mayweather was all over the young kickboxer and it was more of a freak show than an exhibition fight. Boxing fans ridiculed the fight as the young Japanese fighter appeared to stumble, tumble and exaggerate each time he was felled to the canvas.
Many believed that this fight was staged and it did no good to the sport of boxing or Mayweather's image. However, Money Mayweather is alleged to have made $9 million for that exhibition fight and it looks like he is keen to have another big payday.
There is no indication as to where the fight will take place but given the fact that both fighters are American, it will likely take place in Las Vegas, Nevada. However, if COVID-19 continues to play up and fans are not allowed into the arena, there is a possibility that they could shift the fight to a location like Abu Dhabi, UAE.
When Mayweather fought McGregor he weighed in at 149.5 and when Logan Paul fought fellow YouTube star KSI, he weighed in at 199.4. No information has been provided with regards to what weight this fight will take place at!
Big Payday For Both Fighters
Logan Paul has over 22 million subscribers on YouTube and over 18 million on Instagram. Floyd Mayweather has over 24 million subscribers on Instagram. While having fans in attendance will get them a bigger payday due to tickets being sold, they stand to make a lot of money from the pay-per-view buys.
While hardcore boxing fans may not pay to watch this fight given how unequal things are, the casual fight fan will be interested to see how things play out. Jake Paul who is Logan Paul's brother fought recently on the Mike Tyson vs. Roy Jones Jr. exhibition fight where he secure a KO win against former NBA player Nate Robinson.
Soon after the fight Jake Paul called out Conor McGregor as well as his brother Logan Paul for his next fight. However, Mayweather has decided to jumped the gun and take the fight with Logan Paul. The two have already started thrash talking on social media to market the fight!