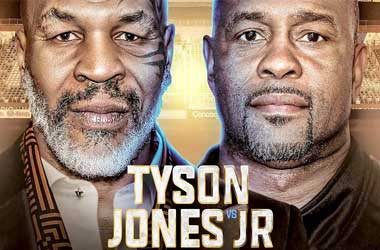 Boxing fans will get a preview of Mike Tyson vs. Roy Jones Jr. exhibition fight as a press conference is scheduled for October 28. The press conference will be moderated by the popular ESPN combat sports journalist Ariel Helwani.
The press conference will also feature other fighters on the undercard which include popular YouTuber Jake Paul who has over 20 million subscribers on his channel, his opponent Nate Robinson, Viddal Riley, Rashad Coulter, Badou Jack and Blake McKernan.
There are many in the boxing world who question the return of Tyson. Iron Mike is 54 years old and retired from professional boxing in 2005. Roy Jr. is 51 years old and his last professional fight was back in 2018.
However, the fight has been approved by the California State Athletic Commission (CSAC) and will take place on November 28 at the Dignity Health Sports Park in California.
Boxing King Media
Tyson was the most dominant heavyweight boxer in his prime and has a record of 50-6 with 44 KOs. When Tyson retired, he embarked on what he labelled as an exhibition tour where one of the goals was to make money to pay off his debt. Tyson had just exhibition fight in Sep 2006 against Corey Sanders which lasted four rounds but it turned out to be a failure as the crowd jeered. The exhibition tour was abandoned after that and Tyson has stayed retired.
Iron Mike announced earlier this year that he wanted to come out of retirement and do an exhibition fight. There was a lot of speculation as to who would be his dance partner with the potential of Holyfield v Tyson 3 being touted and in the end it was former four division champ Roy Jones Jr. who was finalized.
Jones Jr. is a decorated boxer with a record of 66-9 (47 KOs). This exhibition fight will go 8 rounds and the referee will be authorized to stop the fight if it crosses the boundaries of a competitive exhibition bout. There is no official announcement on what each fighter will make but it will likely be in the millions as Tyson was offered $20 million by the Bare Knuckle Fighting Championship (BKFC) promotion for signing with them. Tyson turned down the offer.
Press Conference Will Confirm Interest In Tyson vs. Jones Jr.
The numbers generated during the press conference will indicate how boxing fans are responding to this exhibition fight. Given the fact that Tyson has 13.1 million Instagram followers and Jones Jr. has over 600,000 followers, even organizers are expecting a good response.