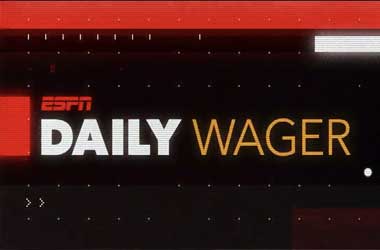 The sports betting market in the United States is expected to expand exponentially in the next couple of years as more states legalize sports betting. Premier sporting channel ESPN has been quick to recognize the potential of the sports betting market and is set to welcome its first betting show.
This is an interesting move as in the past TV channels were against doing anything involving sports betting. The new show from ESPN will be called 'Daily Wager', will air as a 3:00pm daily program on ESPNews, and will be hosted by ESPN gambling analyst Doug Kezirian. The new show can be considered a dream come true for Kezirian, who ten years ago was one of the few people that was discussing sports wagering through a local radio show in Las Vegas.
Back then, sports betting was a "taboo" subject, and despite his good friend suggesting that he should reach a wider audience because his show was so informational, the gambling analyst just laughed the idea off and did not think a daily sports betting program would ever get on to TV screens.
CNBC Television
Daily Wager will enter the ESPN history books for being the first regularly scheduled program that is exclusively dedicated to data on upcoming contests and other gaming-related information.
New Entertainment Genre
The head of the sports business program at Washington University in St. Louis, Patrick Rishe stated that changes in the betting laws have paved the way for a completely different genre of entertainment, and TV networks are now jumping on board. He believes a 2014 op-ed on legalizing sports betting written by NBA Commissioner Adam Silver in the New York Times was also a major turning point.
ESPN is not the only network joining the bandwagon as rival TV channel Fox Sports 1 started running a daily wagering show from September 2018. Digital sports website Bleacher Report, owned by WarnerMedia, also made an announcement in February that it will produce gaming-related content at a soon-to-be-built studio inside Caesars Palace in Las Vegas.
Sports betting is currently up and running in eight states, including Nevada, Delaware, New Jersey, Mississippi, West Virginia, New Mexico, Rhode Island and Pennsylvania. Major sports leagues have also been signing sponsorship deals with betting companies, recognizing the booming sports betting marketplace.
Lee Berke, President of the consulting firm LHB Sports, Entertainment & Media said ESPN's entry into the sports wagering genre is an important milestone, and places a seal of approval on openly betting on games.