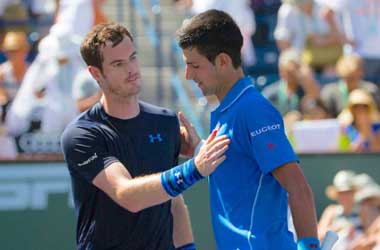 The world's number one ranked men's tennis player Novak Djokovic who has previously stated he is against vaccinations has tested positive for COVID-19 alongside three other players who joined Djokovic's Aldria Tour exhibition tournament, which notably did not enforce any COVID-19 health and safety protocols.
Viktor Troicki, Grigot Dimitrov and Borna Coric also tested positive after the event. The Balkan tournament featured players engaging in behaviors that were clearly at odds with COVID-19 precautions, such as posing for pictures, hugging, and playing basketball with each other.
British tennis ace Andy Murray did not mince any words and said the positive COVID-19 tests were not a surprise.
Murray criticized the handling of the event, noting that zero social distancing measures were enforced. While he hoped that the players all recover soon, Murray stated that the tournament should have been cancelled.
ESPN
Despite some concern that the US Open may be cancelled due to the negative press caused by the Aldria Tour, Murray believes that the safety protocols in place at the US Open will be much stricter. The US Open will have no fans, and due to the results obtained by Djokovic and others, players may be more careful about following social distancing rules.
Djokovic and the others at the Aldria Tour were not breaking the law. Both Croatia and Serbia have moved to ease lockdown measures weeks prior to the event.
The ATP Tour was suspended in early March due to COVID-19. The ATP and the women's tennis organization WTA recently issued their revised schedules for the upcoming circuit in August.
Murray Wins First Match in Battle of the Brits
Murray returned to tennis last week with a convincing win over Liam Brody in the "Battle of the Brits," a charity tournament held in West London at the national tennis center. The former world number one and two-time Wimbledon champion Murray easily disposed of the British number six Brody in a 6-2 6-2 win, which marked Murray's return to competitive tennis since last November's Davis Cup Finals.
The charity tournament is a week-long event organized by Murray's brother Jaime. It is being held without fans and with strict COVID-19 social distancing measures.
Aside from the presence of chair umpires, other typical comforts of professional tennis were absent. Players retrieved their own towels and balls, and they did not change sides after a set.
The round-robin tournament was held for the benefit of Britain's National Health Service. Murray stated that he was generally satisfied with his performance, despite some hiccups due to a lack of practice.