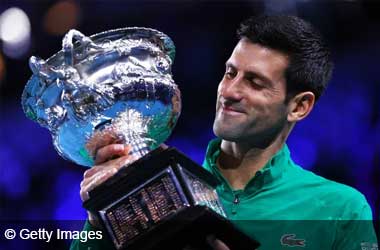 Novak Djokovic who is the World Number 1 in the men's division recently stated that he is against vaccination. His stance against vaccinations may imperil his return to tennis if travel is restricted only to individuals who have been vaccinated against COVID-19.
In a live Facebook chat with other Serbian athletes, Djokovic reiterated that he is personally against vaccination. However, he did admit that he will need some time to think about it if it is made compulsory for traveling on the international tennis circuit, should the tennis season resume in the next couple of months.
Djokovic has had a tremendous start to the 2020 season. In January, Djokovic dominated Australian Open and went on to win in style.
This was the 17th grand slam title for the Serbian superstar, who was in the midst of an 18-match winning streak before COVID-19 eliminated all mainstream sports events across the globe.
It is unlikely that Djokovic, even though he is currently the world's no 1, will be granted an exemption should a COVID-19 vaccine be required once quarantines end.
Reuters
July is Tennis' Earliest Start
All tennis events are cancelled until July 13, although many believe that this date could very well be extended if things take a turn for the worse.
The cancellation of 2020's Wimbledon championships due to the coronavirus marked the first time the premiere tennis event was cancelled since World War II. The French Open, which was supposed to take place on May 24, has similarly been suspended, and is now slated to occur at the tail end of September, following the conclusion of the US Open.
No Vaccine, No Tennis
Former women's number one Amelie Mauresmo stated last month that tennis is unlikely to resume in 2020. She also contended that tennis should only resume once a COVID-19 vaccine is available. Scientists estimate that such a vaccine will need at least a year to be ready. According to Mauresmo, international tennis events often feature packed crowds watching players from different countries plus their respective teams.
Je crois qu'on va devoir tirer un trait sur la saison 2020 de tennis. Circuit international = des joueurs et joueuses de toutes nationalités plus les encadrements, spectateurs et les personnes venant des 4 coins du monde qui font vivre ces événements.
Pas de vaccin=pas de tennis

— AmelieMauresmo (@AmeMauresmo) March 31, 2020
Because of the extensive travel histories of many individuals within a tennis event, it would be disastrous if a COVID-19 positive person is in attendance, with the possibility of infecting thousands who could then re-infect others when they travel back home. This is why Mauresmo is adamant that the COVID-19 vaccine is essential if the tennis season is to resume in any way, shape, or form.