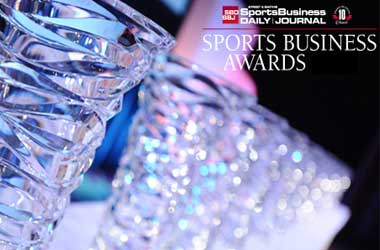 The SportsBusiness Journal has been conducting its prestigious Sports Business Awards ceremony for the last 10 years which recognizes and awards outstanding achievement and excellent in sports. The 11th Sports Business Awards ceremony is scheduled to take place on May 23 at the New York Marriott Marquis in Times Square.
The 11th edition of the Sports Business Awards will look at performances from March 01, 2017 to Feb 28, 2018. A total of 17 categories will be recognized during the awards ceremony and 89 nominees have been shortlisted for the awards.
Defending NBA Champions, the Golden State Warriors (GSW) have been nominated for the 'Sports Team of the Year' award.
This is not the first time that the GSW have been nominated for this prestigious award. The Warriors have been nominated four times during the last five years and won the award in 2014 and 2016 while their CEO and Owner Joe Lacob received the 'Sports Executive of the Year' award in 2016.
The Warriors do have some stiff competition to beat as some of the other nominees in the same category include their rivals the Cleveland Cavaliers, Toronto FC, Miami Dolphins and Chicago Cubs.
Golden State Warriors
Golden State Warriors Continue To Outshine The Competition
GSW has been extremely consistent when it comes to winning and showcasing their talent. The Warriors have had a good season this year and currently sit in second place on the Western Conference rankings just a few points behind the Houston Rockets.
In a statement, Rick Welts, Warriors President and Chief Operating Officer said
We are extremely honored to be recognized again by the SportsBusiness Journal for the work our organization has done over the past year. We are always striving to be one of the top franchises in sports and we are honored to receive this nomination
The Warriors are confident of making it to yet another NBA Championship finals considering their line-up of star players. Their biggest threat right now is not from another NBA team but from injury concerns to their key players who might have to drop out and in doing so weaken the Warriors chances of successfully defending their NBA Championship.
The winners for the Sports Business Awards will be determined by a panel of industry executives and SportsBusiness Journal/Daily representatives. They will shortlist the winners in 15 categories while the remaining 2 categories namely 'Athletic Director of the Year' and 'Sports Executive of the Year' will be decided solely by SportsBusiness Journal/Daily editorial staff.