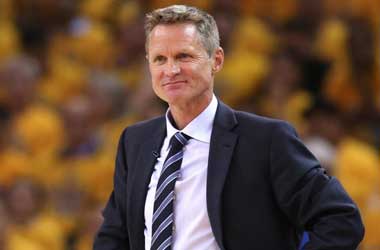 With the win over the San Antonio Spurs on Saturday night, Golden State Warriors head coach Steve Kerr earned his 250th win making him the fastest coach to reach 250 wins in American sports history. It only took Kerr 302 games to reach 250 wins, which is 44 games faster than Phil Jackson who was the previous title holder.
Kerr became the Warriors head coach in 2014 where he succeeded previous head coach Marc Jackson. During Jackson's tenure as the head coach of the Warriors, the team made it to the players for two seasons but could not go on to win the Championship. Once Kerr took over, he quickly transformed the team and the Golden State Warriors went on to win the NBA Championship in his very first year as head coach.
The second year of Kerr's tenure the Warriors had the best record in NBA history with 73 win and just 9 loses as they once again made it to the NBA finals but went down to the Cleveland Cavaliers in a dramatic seven game series. The following season the Warriors signed most valuable player (MVP) Kevin Durant and went to on to once again win the championship this time beating the Cavs in five games.
NBA on ESPN
The Warriors have the favourites tag associated with them again this season and are expected to reach the finals yet again. There is no doubt that one of the reasons Kerr has had such success with the Warriors is because they have a great team.
In a statement, Draymond Green who plays for the Warriors said
Steve never had any coaching experience, and to accomplish something like that says a lot. I think with the continuity that he brought to the organization, not only on the basketball court but just in the culture, has made a difference, and that's why we've been able to have the success that we've had
According to his players Kerr implements several successful faucets of teams he had been part of as a player. The Warriors offense uses elements of the famous triangle offense which Phil Jackson used to lead Chicago to six championships while the defense likes to use the spacing and pace method Gregg Popovich has been known to use in San Antonio.
Currently the Warriors have the best record in the league at 43-13 and stand atop of the Pacific Division as well as the Western Conference playoff table. The Warriors rank 1 st in field goal percentage, three point percentage, and in points scored this season with many experts believing that the team is the odds on favorite to once again win the NBA Championship.