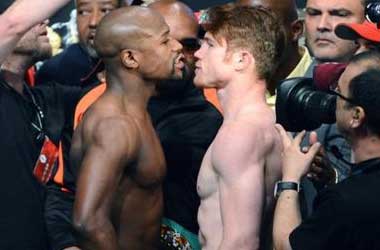 Canelo 'Saul' Alvarez just signed one of the most lucrative deals in sporting history with DAZN for $365 million.
The Mexican superstar signed with the new sports streaming service a 5 year deal which consists of 11 fights. Canelo was very happy with the new contract and had a few words of advice for his old opponent Floyd 'Money' Mayweather.
Mayweather has arguably done more for the sport of boxing than any other boxer. He holds the record for the highest pay-per-view sales for a number of his fights and has a phenomenal 50-0 record. Money Mayweather announced his retirement after fighting UFC Superstar Conor McGregor in August 2017.
However, Mayweather has been in the news of late as he has confirmed that he is coming out of retirement to fight Dagestani's Khabib Nurmagomedov as he is confident that he will have another 9 figure payday. Khabib is also a UFC fighter who is not a professional boxer but he does have a global fanbase. On October 6, Khabib knocked Conor McGregor down with a hard right hand and would later go on to submit him inside the Octagon.
Khabib sent out a fun challenge to Mayweather saying that although he isn't a boxer, he managed to send McGregor to the canvas, something that Mayweather wasn't able to do. That was enough to get Floyd to come out of retirement and agree to a fight with Khabib
In a statement, Canelo said
He wants to continue hurting boxing by making fights that don't make sense and not giving boxing the credibility it deserves. If he wants to return, I ask him to look my way to give a great fight to the fans. Let's do the second fight. It's very important. We have something pending there, so let's make the second fight.
TMZSports
Floyd Mayweather Will Not Bite Canelo's Bait
Mayweather beat Canelo in their fight back in 2013 but since then Canelo has become a fantastic boxer. His next fight is scheduled for 15 December at Madison Square Garden when he fights Rocky Fielding.
There's no doubt that boxing fans would love to see Canelo vs. Mayweather 2 but that's very unlikely to happen because Mayweather knows that he will be risking his 50-0 record against Canelo. Mayweather has also expressed interest in fighting Manny Pacquiao again but as of now no contract has been signed.