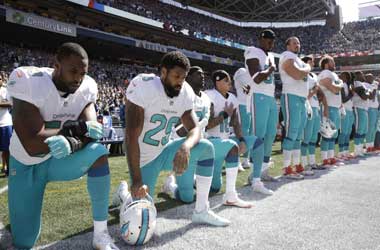 Two of South Florida's police unions have encouraged their members to boycott the Miami Dolphins due to their NFL player's national anthem protests which are opposed to social injustice including police brutality.
The National Anthem protests caused a lot of controversy last season and hurt the NFL after President Trump launched an attack on players who disrespected the anthem. The NFL tried to sort out the issue for the new season but those plans don't seem to be working.
The Dolphins' Week 1 pre-season game took place on Thursday night.
During the national anthem Defensive End Robert Quinn stood with his fist raised. Wide receivers Albert Wilson and Kenny Stills took a knee. This was yet another sign that the players would continue to protest during the National Anthem.
Police Unions Take Their Stand
First it was President Trump calling on NFL fans to stop going to games and watching the NFL on TV. Now Police Unions have joined the protests and this isn't good for the NFL and its ratings.
Rod Skirvin, Vice President of Broward County's Police Benevolent Association (PBA) told the Miami Herald that the protests insulted the county's police officers and US armed forces since several officers are ex-military. Skirvin stated that the police department will boycott the Dolphins and NFL as long as the protests continue.
Broward County's PBA encouraged its members through a Facebook post to boycott a partnership with the Dolphins that gave discounted tickets to members. The PBA argued the agreement was based on the stipulation that the Dolphins required all its players to stand during the national anthem. Palm Beach County's PBA agreed with that idea.
CBS Miami
NFL Players Not Protesting Against The Troops
NFL players who have taken a knee and protested during the anthem have tried to clear their air by saying they are not protesting against the troops but social injustice.
In a statement, Aaron Rodgers who plays for the Green Bay Packers said
I don't know how many times we can say, as a player and as a group, how much we love and support and appreciate the troops, and the opportunities this country allows us.
The pro football league and NFL Players Association (NLFPA) are trying to hash out a policy regarding anthem protests prior to the season opener scheduled for Sept. 6. So far the two parties have not been able to reach a mutual agreement.