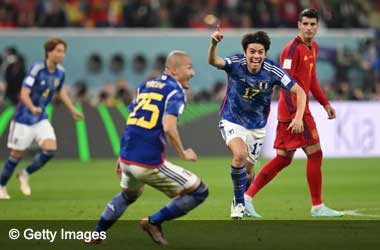 Summary
Japan stunned Spain and ended up topping Group E
Japan has now caused two major upsets at the World Cup
Even though Germany beat Costa Rica they do not advance
Germany and Spain were the two powerhouses in Group E and were expected to qualify and make the round of 16 at the 2022 FIFA World Cup as Japan and Costa Rica were not expected to pose any serious challenges during the group stages.
Japan surprised Germany by beating them and then ended up losing to Costa Rica.
Germany and Spain finished their game in a draw and it made things very interesting for Group E on 02 December as the remaining two matches between Japan vs. Spain and Germany vs. Costa Rica would decide which two teams advance to the round of 16 and which two teams exit the World Cup.
Japan Cause Another Serious Upset After Beating Spain
Japan stunned Spain by beating them 2-1 and by doing so ended up on top of Group E. The second goal that Japan scored was highly controversial as television replays showed that the ball had gone out of play as it crossed the line.
However, VAR somehow ruled that the ball was still in play and the goal was awarded to Japan, much to the delight of the Japanese fans.
Japan can be very pleased with themselves as no one expected them to advance to the round of 16. Japan's next game will be against Croatia, which bettors will enjoy whilst Spain will take on Morocco to see who will advance to the quarter-finals.
Germany Suffer Another Embarrassing World Cup Exit
Costa Rica led Germany 2-1 and for a few minutes looked like they were going to finish in second place and send both Spain and Germany packing. The Germans came back hard in the second half and ended up scoring 3 goals to finish with a 4-2 scoreline. Even though they won the game and had the same points as Spain, they lost out on goal difference.
Germany came into this World Cup having won just 2 out of 10 international games and their poor form continued in Qatar much to the disappointment of their fans and the enjoyment of football fans around the world.
Germany are out of the #FIFAWorldCup in the group stage!! pic.twitter.com/h3bFEYn1Pw

— Alan Shearer (@alanshearer) December 1, 2022
Spain when asked to save Germany pic.twitter.com/LFg5uzZPfK

— BH (@MCFC__BH) December 1, 2022
Been a long time coming👍 @DFB_Team_EN pic.twitter.com/PtVNYrKPuF

— Kian (@bcfckian) December 1, 2022
This is the second consecutive World Cup that Germany has had to exit in the group stage which is an embarrassment to the former World Cup winners.