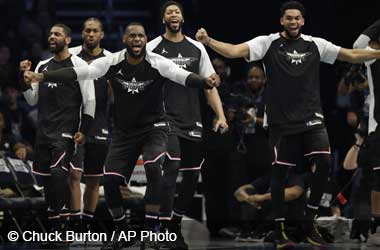 NBA fans look forward all year to see their favourite All-Stars join forces and compete against each other.
The NBA All-Star game that took place on Sunday night at the Spectrum Center in Charlotte lived up to all the hype as fans were treated to a very high scoring match that was competitive right till the very end.
The talent and experience of the All-Stars was visible from both teams as they came up with brilliant plays, unique passes and some fantastic three point shooting. Team LeBron had just a little too much firepower in the end and they clinched the game with a 178-164 scoreline.
Team LeBron had a stacked team on paper but in the first quarter, they looked like they were asleep as Team Giannis ran away with a 53-37. However, it did not take Team LeBron long to find their shooting range and Kevin Durant led from the front. The defense from both teams were lacking as one can see from the high scoring match.
Clutch
However, it made great excitement for the fans as Kevin Durant finished with a performance that earned him the Most Valuable Player (MVP) award of the evening. He had 31 points, 7 rebounds and 2 assists and received good support from LeBron James and Kawhi Leonard.
James finished with 19 points, 8 rebounds and 4 assists while Leonard had 19 points, 5 rebounds and 2 assists.
Durant said that once their team started getting a few shots together, it built momentum and they never looked back. Durant who plays for the Golden State Warriors was very happy with the MVP award said that it would give him some bragging rights as he plays along Steph Curry and Klay Thompson
Team Giannis Falls Short
Team Giannis could not capitalize on their great start nor from the outstanding game their captain Giannis Antetokounmpo had which saw him score 38 points, 11 rebounds and 5 assists.
He received good support from Paul George and Khris Middleton who scored 20 points each. Stephen Curry looked good at certain times but he wasn't on top of his game and missed some crucial 3 pointers. Curry finished with 17 points, 9 rebounds and 7 assists.
The All-Star game will result in $500,000 being donated to charities with Team Lebron donating $350,000 and Team Giannis donating $150,000.