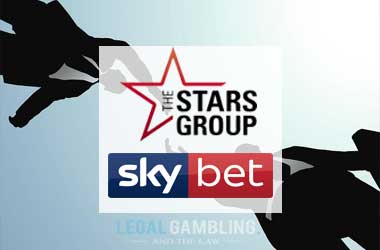 Stars Group is proceeding with its plans to acquire its competitor Sky Betting and Gaming.
The Group recently opened up a public share offering so that they would be able to raise the funds to complete the acquisition. The public share offering has turned out to be a successful venture for the Group as they recently announced that they had brought in $622 million from the sale.
The Stars Group owns some of the most popular online gambling brands out there. This includes PokerStars and Full Tilt, both top online poker websites in the market. The Group sold 17 million shares to outside buyers, while other shareholders sold around 8 million shares.
The money raised was a total of $622 million and the company announced that this money, along with funds from other sources would be used to purchase Sky Betting and Gaming.
The shares were sold with three major banks running the books and underwriting representatives. They were JP Morgan, Deutsche Bank Securities and Morgan Stanley. Additional assistance came from a number of other banks including Barclays and Goldman Sachs.
A statement released by the company said
The Stars Group Incorporated intends to use the net proceeds from the offering together with the company's previously announced equity offering, bank financing and cash on hand to fund the previously announced acquisition of Sky Betting and Gaming. If for any reason the acquisition does not close, the company intends to use the net proceeds from the offering for general corporate purposes.
The deal for buying SkyBet was finalized back in April after the Stars Group agreed to pay $3.6 billion in cash and $1 billion via shares to acquire the British gambling company. This acquisition will give the Stars Group more reach in several regulated markets and bring in quite a few organizational and monetary benefits for the company.
Acquisition Expected To Be Completed In Third Quarter
The Group used different methods to raise the necessary funds. Earlier, Stars Group launched a public loan offering in an effort to raise $750 million. The loan is only be available to institutional buyers in the United States and will mature in 2026. The acquisition is supposed to go through in the third quarter of the year subject to regulatory approval. Stars Group also recently acquired Australian sports betting operator CrownBet to expand its presence down under.