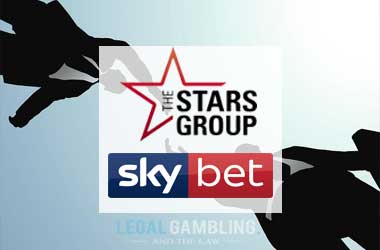 The Stars Group (TSG) is now poised to create the world's largest publicly listed online gaming company after a deal that acquires Sky Betting & Gaming (Sky Bet)..
The Stars Group is the parent company of PokerStars, the biggest online poker website in the world.
In a press release dated April 21, Stars Group announced that it is purchasing Sky Bet from CVC Capital Partners and Sky plc. via a cash and stock deal worth $4.7 billion. The $4.7 billion deal will be paid in $3.6 billion worth of cash and around 37.9 million newly-issued common shares. While it would take quite a while before the transaction is completed, Stars Group estimating it to finish by Q3 2018. The deal is set to make Stars Group the biggest iGaming company in the public exchange.
The deal comes before Sky Bet was able to push through with an initial public offering (IPO), which was first advised by investment bank Rothschild. Sky Bet has been performing well in the European market since CVC bought a controlling stake in the company in 2015, growing its customer numbers from 1.5 million to 2.6 million players in just two years. Sky Bet also has the biggest share of active online players in the UK sports betting market. Alongside the sterling performance of its brands such as Sky Casino, Sky Vegas and Sky Bingo, a huge chunk of Sky Bet's unaudited annual revenue of £624 million come from its mobile apps.
Stars Group Strengths Sports Betting Offering
According to Stars Group CEO Rafi Ashkenazi, the strength of Sky Bet in the sports betting market and in the mobile gaming sector will greatly contribute to the growing brand and products of Stars Group and PokerStars.
Some of the operational and financial benefits outlined in the Sky Bet acquisition press release include: a revenue diversification for Stars Group as it enhances its exposure to sports betting; an increased presence in the UK market, where it currently has 12 percent of the market share; more effective cross-selling of poker and sports betting products; and cost synergies of around $70 million every year.
Stars Group is expecting the Sky Bet acquisition to fully prepare the company to strengthen its sportsbooks. The company only recently acquired Australian sportsbook operator – CrownBet.
In a statement, Ashkenazi said,
SBG operates one of the world's fastest growing sportsbooks… SBG's premier sports betting product is the ideal complement to our industry-leading poker platform. The ability to offer two low-cost acquisition channels of this magnitude provides The Stars Group with great growth potential and will significantly increase our ability to create winning moments for our customers