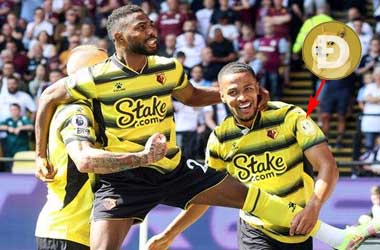 Soccer players from the English club Watford F.C. have put Dogecoin on their jerseys this Premier League season. All three Watford shirts will have the Dogecoin logo. Stake.com, a sports betting platform and cryptocurrency casino, is sponsoring the meme currency. Watford's relationship with Stake.com was first revealed in July.
Nevertheless, the cryptocurrency's name, transaction value, and other conditions were not disclosed at that time. Stake.com, which was established in 2017, is one of the gaming sector leaders, with more than 30 billion transactions every year representing more than 5% of all Bitcoin transactions globally.
Following news of Stake as the UFC's Official Betting Partner in Latin America and Asia in March, the agreement with Watford FC deepens Stake's sports sponsorship investments. According to The Athletic, the transaction is valued at a minimum of £700,000 ($970,500) and will be compensated in cryptocurrencies.
Stake.com also intends to reward 10 million DOGE (worth $2 million) to generate awareness about the alliance. Dogecoin has never made its presence at top level sporting events in the United Kingdom. The Shiba Inu, on the other hand, is not rare at sporting arenas.
Watford FC
From 2014, when Dogecoin holders collaborated on Reddit to promote NASCAR driver Josh Wise and Jamaica's Winter Olympics bobsled squad, the coin's passionate fans have backed athletes and sporting events multiple occasions. Watford's first cryptocurrency sponsorship was with Stake.com.
The soccer club donned Bitcoin jerseys to endorse the cryptocurrency throughout the 2019-2020 season. That was part of a contract with Sportsbet.io, which is another well-known sports betting service. Spencer Field, a Watford F.C. spokesman, revealed at the time that the Watford F.C. community had a "lengthy and regular cryptocurrency debate"
The only proof was Watford supporters promoting EOS on a Watford F.C. cryptocurrency forum three years before. Currently, the board is not a place for Dogecoin debate. However, after the announcement of the collaboration with Stake.com on July 22, several fans suspected that the payment might have been paid in Dogecoin.
"It is a risk for a team with rather shaky finances" one fan commented of the club's choice to take the sponsorship money in cryptocurrency soon after posting a $35 million deficit. "Is the club hoping that Dogecoin funding would propel them to the moon?"