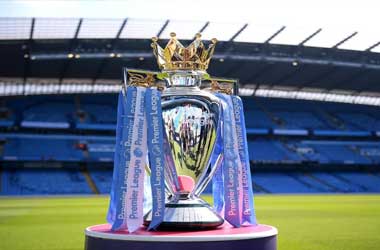 Last season was a turbulent one in the Premier League thanks to the COVID-19 pandemic. The fixture schedule was packed and fans were largely forced to watch from home. Manchester City came out on top as predicted with a virtually unchallenged stroll to the title after Liverpool's title defence fell apart.
The 2020/21 season will welcome fans back to stadiums in full and will see the fixture schedule return to some degree of normality. With that, there should be fewer injuries and more rest for Premier League players as we prepare for another season of PL action.
Lastly, tweaks to the VAR system and how offsides are officiated should result in (hopefully) less frustration and a few more goals.
Bet On EPL On Our Best To Sportsbooks
Talking of goals, Tottenham and England captain Harry Kane finished last season as the Premier League's top scorer with 23 goals, with Liverpool's Mohamed Salah a close second a goal behind. The future of Kane has dominated the recent football headlines, as the 28-year-old has refused to return to training with Spurs after a failed bid by Manchester City.
Whether he is wearing the white of Tottenham or Sky blue of City this season, the England star will once again be one of the favourites to claim yet another Premier League golden boot this season. However, Liverpool's talisman Salah will no doubt be up there in the scoring charts once more, as he looks to recapture the form that has turned the Reds star into one of the most prolific forwards in the European and world game.
Sky Sports Football
* Odds have been provided by Bet365 and are accurate as of 05/08/2021
Premier League Title Contenders
Manchester City
Odds To Win: 4/6
Finish In Top 4: 1/16
Last season saw Manchester City reign supreme and take their fifth Premier League title, accumulating 86 points. Out of the 38 games played, Manchester City managed to bag 27 wins, 5 draws and only 6 losses, producing a +51-goal difference, the highest in the league.
Manchester City's transfer prospects are looking promising, yet the outcomes are still relatively uncertain. There have been talks that both Jack Grealish and Harry Kane are to move to the Etihad, but at the time of writing, this is still unclear.
Manchester City's prospects for the upcoming 2021/22 season are looking strong, and as the reigning champions, it is easy to see why they are some people's favourite to win it again.
Liverpool FC
Odds To Win: 5/1
Finish In Top 4: 1/4
The 2019/20 Premier League season concluded with Liverpool's first league title since 1990, however, they were unable to defend this last year. Nevertheless, the Reds still managed to achieve third place above Chelsea and qualified for the Champions League.
Liverpool managed to reach an agreement with RB Leipzig for Ibrahima Konaté, a much-needed centre-back for Liverpool's line-up. There are rumours and speculation that Liverpool are also on the lookout to strengthen their attacking options.
With the return of Virgil van Dijk and Joe Gomez after long-term injuries and the recent addition of Konaté to the squad, Liverpool's prospects for the 2021/22 season have drastically improved.
Chelsea
Odds To Win: 5/1
Finish In Top 4: 1/4
The 2020/21 season for Chelsea was a rollercoaster that ended in sheer delight for the team. Thomas Tuchel was introduced as Chelsea's new manager mid-season and managed to turn their campaign around. Chelsea finished in a respectable fourth position and won the Champions League beating City in the Final.
There are several rumours in relation to possible transfers at the moment, from Erling Haaland to Antoine Griezmann. Chelsea's recent bids for Romelu Lukaku have been rejected by Inter Milan, although it is likely that they will continue a pursuit. Chelsea do not have any major outgoing players at the moment.
The Chelsea team is looking to make some improvements to the squad in a variety of areas. Last season's signings such as Kai Havertz, Timo Werner, and Ben Chilwell are now beginning to find their footings and settle into their roles. Chelsea are likely to challenge for the title this season.
Outsider: Manchester United
Odds To Win: 8/1
Finish In Top 4: 2/7
Manchester United came in a respectable second last season but never really challenged their rivals Manchester City. United proved to maintained an impressive away record as they remained undefeated in the league.
The introduction of Jadon Sancho and Raphael Varane are promising upgrades to the Manchester United squad.
It would also appear that Paul Pogba will remain at the club after there were rumours of him leaving over the summer.
Manchester United's prospects for this season are varied. So far the club has managed to have an excellent transfer window, however, the squad is still lacking some depth in places when compared to other title contenders.
Relegation Predictions
Norwich
Odds To Go Down: 5/6
Norwich are to return to the Premier League for the 2021/22 season after being relegated at the end of the previous campaign which saw them win only five of their 38 games. Norwich spent the 2020/21 season back in the Championship and cruised to the top of the table, winning the league with 97 points and securing a promotion straight back up to the Premier League.
Transfers for Norwich have been mixed as they have lost Emiliano Buendia to Aston Villa which will be an enormous creative loss. However, the recently acquired loan of Billy Gilmour from Chelsea is a great pick-up for the club.
The Norwich squad does not appear to be any stronger than it was in the 2019/20 season when they finished last, securing only 21 points by the end of the season. Their main striker Teemu Pukki still proves to be an asset to the team on occasion but is getting older and questions will be asked of his reliability in the Premier League.
Watford
Odds To Go Down: Evens
Watford managed to secure automatic promotion to the Premier League after finishing with 91 points by the end of the 20/21 season. Like Norwich, Watford are a team that were relegated in the 2019/20 season and have since clawed their way back.
Watford's transfers of Josh King and Danny Rose will add some further Premier League experience and expertise to their squad. Although there will likely be questions over the quality of Watford's acquisitions and whether they can sustain them in such a competitive league.
Similar to Norwich, questions are sure to be asked of their depth in certain areas as well as whether the squad has actually seen any improvements or developments since their relegation in the 2019/20 season.
Brentford
Odds To Go Down: 11/10
After so many close calls, Brentford will be a new addition to the Premier League line-up for the 2021/22 season after coming up through a playoff win against Swansea. Ivan Toney managed to break the Championship scoring record during their fight for a promotion spot.
The addition of Kristoffer Ajer at centre-back has been a decent move for the Brentford squad. Overall, however, the squad does appear to lack any significant Premier League experience.
Brentford are heavily reliant on Toney to produce goals, and it is hard to say whether this will be an effective strategy in the Premier League. Historically, playoff winners tend to struggle and that could be a similar case again here.
Outsider: Crystal Palace
Odds To Go Down: 7/4
Crystal Palace finished the 2020/21 season in mid-table obscurity as they found themselves in 14th place under Roy Hodgson. Hodgson left his position as manager in May with Patrick Vieira taking his place for the upcoming season.
Crystal Palace have witnessed a lot of contracts expire, including the recent retirement of former manager Roy Hodgson. There have been rumours that Palace are interested in the prospect of signing Arsenal forward Reiss Nelson on loan.
Crystal Palace have so far made some very smart signings, bringing in Marc Guehi, Michael Olise and Joachim Andersen. The success and quality of Viera as Crystal Palace's manager is yet to be revealed, but their recent signings give them a decent shot of survival.