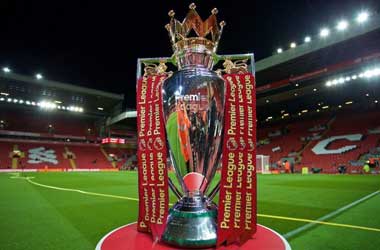 Trying to figure out how the English Premier League standings will look like in May is never an easy task. While we can look at the 2019-20 season as some sort of indication of what the next season will bring, it's difficult to do so this year.
That due to both the numerous signings top English football clubs have made and the fact that the previous season was arguably one of the most unpredictable in recent history.
The 11-month long season wrapped up on July 26; however, unlike how it was last year, Liverpool was crowned as the champion way ahead of time, with seven more rounds left to be played. Meanwhile, the race for the European spots and battle to avoid relegation extended to the final day of play.
Bet On EPL On Our Best To Sportsbooks
The 2019-20 season of EPL will go down in history as one of the most memorable seasons to date for many reasons. Two of the main reasons were Liverpool's dominant run to its first championship title in 30 years and the introduction of video assistant referee (VAR). But in most part, the 2019-20 season will be remembered due to the COVID-19 pandemic that halted the competition for over three months.
The 28th season of the Premier League was initially suspended on March 13 after several players and other club staff became ill due to COVID-19. The initial suspension, which was supposed to end on April 4, was then extended to mid-June, with the season finally commencing on June 17.
With such a chaotic season behind us, it's difficult not to be excited about what the next chapter of EPL will bring.
J2foot
* Odds have been provided by William Hill and are accurate as of 09/09/2020
Premier League Title Condenders
Manchester City
Odds To Win: 8/11
Finish In Top 4: 1/33
There was a lot of talk about Manchester City over the last couple of weeks, and it's not hard to figure out why. With Lionel Messi finding himself on the exit doors of Barcelona following the Catalan club's humiliating exit from the UEFA Champions League, many quickly connected the dots and saw Manchester City as Messi's next destination.
The shock transfer move, which would redefine the EPL and make all other teams fear the Sky Blues, fortunately (for other 19 teams), did not come through. That, however, does not mean Man City is entering the next season any weaker than they were in 2019-20.
On the contrary, Pep Guardiola did an excellent job rejuvenating his squad with the arrival of Ferran Torres and Nathan Ake, as well as the departure of Leroy Sane. Whether that will be enough for Man City to reclaim the throne is anyone's guess, but the bookmakers seem to agree Man City is entering the next season as the main favourite to hoist its seventh title.
Liverpool FC
Odds To Win: 2/1
Finish In Top 4: 1/12
Jurgen Klopp is entering the 2020-21 season with the mentality, "don't fix it if it's not broken," and has consequently decided to keep his championship roster mostly intact. The only major addition that could happen in the offseason would be the arrival of Bayer Munich's midfielder Thiago Alcantara, who the German strategist believes will be enough to remain competitive with their arch-rivals Man City and contest another title.
The only finalized arrival to date remains Konstantinos Tsimikas, ex-Olympiacos left-back, while Liverpool parted ways with Adam Lallana, Dejan Lovren and Nathaniel Clyne, which freed up over £300,000 per week in wages.
Not making any major changes could prove to be a double-edged sword for Liverpool. While the Reds looked impermeable for most of the season, the biggest question remains: Can they keep up and go the distance once more?
Manchester United
Odds To Win: 14/1
Finish In Top 4: 4/9
Even though Manchester United are priced as the fourth favorite to win the title (behind Chelsea at 11.00), we have to put Ole Gunnar Solskjaer's squad on our list. The Red Devils finished last season in third place, which might have been a surprise result for the fans, but there is no denying this team has seen significant improvement.
The main reason why Man United are one of our favorites is the dedication of the Norwegian strategist, who is an emphatic believer in Man Utd's youth, which implies he is building this team for future success. What's more, it would be fair to say that Man Utd's midfield is looking better than it did in a very long time after the signing of Bruno Fernandes, while Donny van de Beek's arrival is bound to add even more quality to the already solid lineup.
Next on the shopping list for United is Borussia Dortmund's Jordon Sancho, whose arrival will definitely put United in a strong position to contest a top-three finish.
Outsider: Chelsea
Odds To Win: 11/1
Finish In Top 4: 2/5
If we did not put Chelsea at our No. 3 spot, it's only fair to tag them as the outsider pick. The main factor that could help Chelsea contest the title is Frank Lampard, who had enough time to find his place as a manager and will now have to prove if he is capable of leading his former team.
One thing to note about Chelsea is their long list of arrivals, including Timo Werner and Kai Havertz, who will surely bolster Chelsea's attack, but at a cost of a whopping £120 million. Besides the talented Bundesliga players, Chelsea added a bit more firepower at the front with the signing of Hakim Ziyech, who arrived from Ajax.
With over £200 million spent in the offseason, the pressure is now on for Lampard to prove himself. Otherwise, he just might be forced to end his managerial career prematurely. Urgency tends to inspire efficiency – we will have to see whether that holds true for the Blues.
Relegation Predictions
Aston Villa
Odds To Go Down: 2/1
On the other end of the spectrum, we have Aston Villa, which is one of the main candidates to get relegated. There are arguments to be made Aston Villa should have been relegated this season, but thanks to their midfielder Jack Grealish, Dean Smith's side survived by the skin of their teeth.
Even though Grealish had a very solid season, he won't be able to do all the heavy lifting alone again, meaning that the only way Aston Villa can succeed or at least survive for one more season is for his teammates to show a bit more.
Adding to that, Aston Villa desperately needs to find a solid goalkeeper, especially following Tom Heaton's injury. All in all, things are not looking good for the Lions.
Fulham
Odds To Go Down: Evens
Fulham will return to the highest level of play following a shock win over Brentford in the Championship Playoff finals. Still, it remains to be seen whether they really belong in the Premier League.
Scott Parker's side will desperately need to freshen up their defensive line by adding an experienced CB, who can team up with Michael Hector. On a more positive note, Fulham boasts a strong attack, and as long as Aleksandar Mitrovic can continue with his impressive showings, Fulham will likely prove to be a real goalscoring threat.
Fulham also opted to sign Antonee Robinson and Mario Lemina, which are both decent additions, but all the spotlight will be on Harrison Reed. He will be required to repeat his performances from the last season to keep Fulham's boat afloat.
West Brom
Odds To Go Down: 21/20
West Brom is the favorite to drop down to the second tier of English football, and it's hard to view them as anything else. While West Brom relieved a large portion of their wage bill in the offseason with the departure of several senior players, their newest arrivals hardly inspire much optimism.
Nevertheless, West Brom still has Matheus Pereira, who has had a few memorable moments last season and is now a permanent member of the team. Now we have to wait and see whether West Brom is prepared to add a bit more quality before the season kicks-off – otherwise, they will struggle to retain their spot in the EPL.