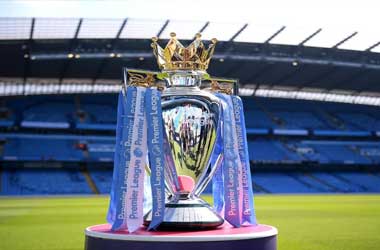 It'll be almost impossible for the English Premier League to top last season.
Manchester City and Liverpool battled it out until the final day of the season, with City prevailing to win a second straight title. Liverpool FC and Tottenham Hotspur also played in an all-English Champions League final. It'll be a tough act to follow, but the Premier League almost always finds a way to surprise and entertain us.
With any luck, this season's title race will feature more than two teams while the relegation battle at the bottom will be just as compelling.
We'd be happy to share our picks for what teams finish in the top-4 and what teams end up in the bottom-3 in the Premier League this season.
Bet On EPL On Our Best To Sportsbooks
Premier League
Premier League Title Condenders
Manchester City
Odds To Win: 1/2
Finish In Top 4: 1/50
Pep Guardiola's team won the domestic treble last season, making it almost impossible to see them as anything but the team to beat in the Premier League this season. They did see longtime captain Vincent Kompany leave the club, so there could be a void in leadership. Leroy Sane will also miss most of the season following a preseason ACL injury.
But the rest of the team is largely intact and received a boost in central midfield by the addition of Rodri from Atletico Madrid and Portuguese fullback João Cancelo from Juventus. Also, Guardiola may prioritise Champions League over a third straight Premier League title, but given the depth in the squad, it's a safe bet that City will factor into the title race yet again.
Liverpool FC
Odds To Win: 11/4
Finish In Top 4: 1/14
It'll be interesting to see how Liverpool fares this season. They put forth such a good effort last season, only to fall short in the title race. Will they be motivated to take that extra step or disheartened after the close call? Fatigue could also be a factor after the Reds played until the Champions League final in early June and then watched stars Sadio Mane and Mohammed Salah spend their summer at the African Cup of Nations.
They also didn't any major additions over the summer, although Alex Oxlade-Chamberlain and Adam Lallana will feel like new signings coming off injuries. Finally, Jurgen Klopp's side struggled a little during the preseason, and a slow start to the season could hurt them in the end.
Tottenham Hotspur
Odds To Win: 18/1
Finish In Top 4: 4/9
Spurs have arguably been the most consistent and competitive Premier League team over the last five seasons, but they've yet to break through and win a title. On the bright side, Spurs finally made some new signings this summer after two consecutive empty transfer windows.
Tanguy Ndombele and Giovani Lo Celso will both provide a major boost to the midfield while Ryan Sessegnon gives them another young talent for Mauricio Pochettino to mold. However, it's still possible that Christian Eriksen could be sold to a team in Spain or Italy by the end of August. If Tottenham can stay healthy, they are a great dark horse pick to win the Premier League this year, especially if Eriksen hangs around for one more season.
Manchester United
Odds To Win: 33/1
Finish In Top 4: 11/10
The Red Devils had an immediate boost last season after Ole Gunnar Solskjær took over as manager, only for the club to lose steam down the stretch. The additions of Harry Maguire and Aaron Wan-Bissaka should significantly improve what was a weak backline last season.
However, United failed to bring in a striker to replace Romelu Lukaku, who was sold to Inter Milan. The Red Devils still have plenty of attacking options in Anthony Martial, Jesse Lingard, and Marcus Rashford, but replacing Lukaku's presence up top remains a huge challenge and an area of uncertainty for United heading into the season.
Outsider: Chelsea
Odds To Win: 40/1
Finish In Top 4: 6/4
We'll find out quickly whether or not Frank Lampard is ready to manage at this level or not. Expectations will be high, and Lampard will have to find a balance between competing in the Premier League and Champions League.
Most importantly, the Blues lost Eden Hazard to Real Madrid over the summer, and replacing him will be difficult, even with American wunderkind Christian Pulisic joining the club.
Hazard's absence will be felt, and because of a transfer fan that kept the Blues from adding anyone aside from Pulisic, Chelsea will have to rely on a slew of young players who ordinarily would have been loaned out. Given all of the circumstances, Chelsea will be pleased just to remain in the top-4 before thinking about competing for a league title.
Relegation Predictions
Newcastle United
Odds To Go Down: 2/1
Ayoze Perez and Salamon Rondon have both left the Magpies, and on one outside of those two scored more than four goals for Newcastle last season.
The Magpies will rely on new signings like Joelinton, Allan Saint-Maximin and the return of Andy Carroll to provide the goals, and that can be a risky strategy for a team that will be battling relegation.
Brighton & Hove Albion
Odds To Go Down: 9/5
The Seagulls barely escaped last season and have done little to upgrade the squad over the summer with their most expensive signing Adam Webster for $20 million .
Also, new manager Graham Potter has just one year of experience in England and none in the Premier League; he's not ready to win a relegation battle.
Sheffield United
Odds To Go Down: 4/6
In fairness, the newcomers offers a great story because they were in League 1 in the 2016-17 season and have quickly risen up to the Premier League. But that swift rise means they won't be ready for the top level.
On the plus side Sheffield United have managed to keep Dean Henderson from Manchester United on loan, who played a pivotal role in their promotion and have added the vastly experience Phil Jagielka for free from Everton.