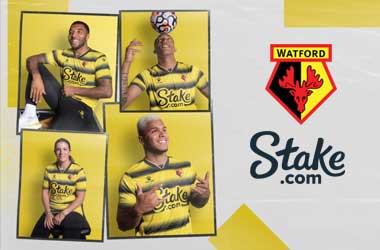 Watford FC, a Premier League football (soccer) team, has inked a multi-year branding contract with Stake.com, a sports betting and casino platform supporting cryptos.
Stake will function as the club's primary jersey sponsor as they come back to the upcoming 2021/22 Premier League season , as per the agreement.
The multi-year deal, which will be compensated in cryptocurrency, brings together one of the rapidly-growing cryptocurrency friendly businesses with a Premier League challenger aiming to create a name for themselves after getting promoted in the Championship during last season.
As Stake expands worldwide, the relationship with Watford FC will take advantage of the Premier League's international reach to raise brand recognition throughout the globe, notably in the United Kingdom, where the brand will debut Stake.co.uk. Stake will undertake crypto-themed activities to mark the start of the collaboration, besides a 10 million Dogecoin handout on its worldwide platform. Furthermore, as Stake launches its UK website, Stake.co.uk, UK viewers can anticipate a slew of additional contests and prizes.
Stake
Stake.com, which was established in 2017, is among the industry leaders, with more than 30 billion transactions annually, representing more than 5% of all Bitcoin transactions globally. Following the announcement of Stake as the UFC's Official Betting Partner in Latin America and Asia in March which includes Francis Ngannou partnering up, the relationship with Watford FC widens Stake's sports sponsorship spectrum.
Watford FC Chairman Scott Duxbury said:
We're pleased to have Stake on board as our primary shirt sponsor for the 2021/2022 season.

As we come back to the Premier League, this will be a very fantastic propaganda for the club, and we are extremely delighted to team up with a firm that shares our vision for success and dedication to creativity.
Stake.co.uk CEO Mladen Vuckovic said:
Stake has had continuous growth over the last several years, and our collaboration with Watford will be the next chapter in our story. We are ecstatic to be partnering with a club with such a rich history and a real entrepreneurial mentality. We're devoted towards becoming an integral part of the Watford community, and we have a lot of interesting projects in the pipeline for supporters!