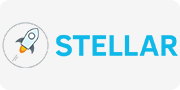 Pros & Cons
Backed by Major Companies
Unique Marketplace
Low in Price
Very Easy to Buy
Aimed Primarily at Users
Low Volatility
Aim at Developing Countries
Still Finding its Ways
No Real Investment Appeal
No Worldwide Interest
Our Expert Rating
Average User Rating
It is often the unique selling point that will make one cryptocurrency much more successful than others, and the cryptocurrency that is Stellar has certainly caught the imagination of many people and organisations due solely to the way it has been designed and its main reason for going live.
However, let me start off by giving you an insight into the structure of Stellar as a cryptocurrency, it is an open source protocol like many others, and was launched back in 2014 by a team including Jed McCaleb and Joyce Kim. It also boasts a number of board members and advisory board members who offer valuable input into its structure and uses.
However, one thing that does give Stellar global appeal is that it is fully supported by a not for profit organisation that being the Stellar Development Foundation.
Stellar offers anyone the ability of transferring money and payments safely and securely and it does so by using the open source protocol on its own set of servers and uses the World Wide Web to communicate to and connect to its global value exchange network.
Those servers are used to store a full record of all of its user's accounts which are stored in its database which it uses as the ledger for the digital currency, therefore allowing the validity of each transaction processed to be verified seamlessly.
A growing number of not for profit organisations are already using Stella, many of which are in the developing world,  and one major development happened in October of 2017 when Stellar joined forces with IBM to create a partnership that allows for an increase in regards to the speed of payment processing.
In regards to Stellar and its ranking amongst all of crypto and digital currencies, it is, at the time of this review being compiled the ninth largest cryptocurrency in regards to its market capitalization, and below are some additional facts you may be interested in learning more about.
Cryptocurrency Exchanges Where to Buy Stellar
Buying Stellar
It can be quite confusing when you want to start using some digital currencies, for you have to set about finding how you can buy them and also have a way of storing them also, and with that in mind I will now give you a quick insight into how you can buy and store Stellar with relative ease.
The way in which all digital currencies are bought and sold is with the use of something known as a digital currency exchange, and by making use of one of them you will be offered lots of different ways to pay for your order of Stellar and you will be given a spot price that you have to pay when doing so.
However, for you to be able to receive your order of Stellar you will have to have downloaded onto your computer or onto your mobile device a digital currency wallet.
They are plenty of them available however keep in mind that not every single digital currency wallet you can choose to download and make use of is designed to store Stellar, so make sure you pick one that is designed as a Stellar digital wallet. There are lots of different payment methods you can use to pay for Stellar so you should have no problems being able to buy it online.
How to Get and Use a Stellar Wallet
If you are unsure of what a digital wallet is, then all you need to know is that it is a little piece of software that will reside on your computer or mobile device that is used to receive or send out Stellar.
So it is important that you fully understand that when you do wish to start using that digital currency you will need to get yourself  a digital wallet and one that is fully compatible with the Stellar digital currency, and you simply download the digital wallet onto your chosen mobile  device or computer.
Once you do so you will then discover that your digital wallet boasts its own unique digital address and that is the address that you need to give out to any company, person or digital currency exchange that is going to send your any quantity or volume of Stellar.
If you want to send Stellar to anyone or any company then you will need to get their digital wallets digital address and then send the quantity of Stellar you wish to send them to that digital address using your Stellar Wallet!
Stellar Exchanges
Stellar can be purchased from several different exchanges, and by using lots of different currencies and payment methods too, the one that do process the very highest volumes of them is Zaif who on an average day processes XLM/KRW pairings of around $66,986,600 in value.
The Binance exchange processes XLM/BTC exchanges of on average $18,528,700 over a 24 hour period and the Bittrex exchange offers XLM/BTC transactions and when I checked over a 24 hour period they had processed a huge $15,165,300 worth of such transactions.
You will also find that the Upbit exchange offers XLM/BTC exchanges and on a typical day they will process around $9,639,030 of such transactions, so they do have a lot of fluidity on their exchanges.
Consider using the Poloniex exchange if you want to perform any STR/BTC exchanges for in a typical 24 hour period they handle on average $9,266,950 of those transactions.
Make sure that you also checkout the Kraken exchange if you want to perform a XLM/BTC exchange for they do handle a lot of those types of exchanges very seamlessly, and on average over a 24 hour period they had processed $8,970,170 of such transactions when I recently checked them out.
Is it Possible to Buy Stellar with PayPal?
Stellar users are not going to be able to use PayPal at any Stellar digital currency exchanges to either pay for any unit of Stellar or as a payout method when they are selling Stellar at any digital currency exchange either.
The reason why you cannot buy Stellar at digital currency exchanges is that PayPal offers the option of charging back any payments make to pay for goods, and as such it is possible for the buyer of Stellar at a digital currency exchange to charge back their payment, even if they have been sent out their Stellar!
If you have no other option but to use PayPal as a way of buying Stellar or getting paid for selling any holdings of Stellar you wish to sell there is a way you can do so, but that will entail you doing a direct transfer to someone you know and trust who has Stellar for sale or who wishes to buy your Stellar and pay you using PayPal.
You could also use the services of a company such as Local Bitcoin as by doing so they will link you up with someone nearby where you live who wishes to buy or sell Stellar and you simply transfer your Stellar to their digital wallet or they will transfer them to you and you can pay them or they will pay you by using PayPal.
That company does allow people to rate their users and as such you will be able to decide for yourself whether the person you wish to make a transaction with is going to be reliable and trustworthy, but just keep in mind that you do have to take all necessary steps when you want to buy or sell Stellar using PayPal as there could be a chance that the person you do a transaction with could perform a charge back.
Do Any Gambling Sites Accept Stellar?
Gambling is of course a pastime that many people enjoy, and with the advent of digital currencies there are not plenty of additional options available for you that will allow you to fund your gambling sites accounts with relative ease.
If you are a user of Stellar and want to know if you can use it as a way to fund your gambling sites accounts, then unfortunately you are not going to find any casino, poker bingo or even sports betting sites that accept Stellar wallet deposits!
However, that doesn't mean you don't have plenty of options in regards to other digital currencies you can use. Many gambling sites have very quickly and have very warmly embraced some other digital currencies such as Bitcoin and Ethereum, so if you do want to gamble online using a digital wallet I would urge you to consider using one of those other digital currencies instead.
Just be aware though that much like the cryptocurrency market place, there are some good and bad gambling sites out there, and as such I urge you to ensure any sites you do decide to gamble at are going to be giving you access to fair games and ones that offer instant winning payouts too.
Instant payouts are something that is now possible thanks to digital currencies and more and more gambling sites have designed their banking interfaces in such a way that as soon as one of their customers' requests a winning payout they are processed on the spot and sent out to those customers digital wallets instantly.
If you have been experiencing any type of problems funding a gambling site account then there is no doubt in my mind you will find plenty of sites that will allow you to make deposits using those digital currencies mentioned above, but sadly not by using Stellar.
Conclusion
I do know and understand that you may be beginning to get somewhat overwhelmed if you have made a decision to start using and/or investing in digital currencies, for the way they do actually work and their infrastructures can often confuse many first time and novice users of digital currencies.
However, what you should always consider if you are going to take the step to become an investor in digital currencies is just whether the ones you are comparing do have long term appeal and are likely to be around in several years from now, and it should of course be the ones that do have long term appeal you should be investing in.
I would suggest you look at digital currencies such as Stellar as opposed to Bitcoin for example if you do wish to invest in digital currencies and you are somewhat averse to risk, for the one of major benefits of course in regards to Stellar at the moment is its unit price!
You are not going to have to pay a small fortune to start to buy into Stellar and it is being backed by some very well know names and companies, which does make it one of only a small handful of digital currencies that are likely to be here for the long term, and therein is the chance that over time its value is likely to increase as more and more people start to buy into it.
I am a great believer in spreading risk, and as such if you do fancy tipping your toes so to speak into the digital currency investing environment then I would urge you to buy into Stellar but also look at buying into some of the many other low cost ones too, as it is better to spread your risk than invest in just one single digital currency!