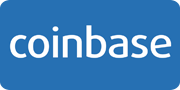 Pros & Cons
Over 10 Million Customers
Insurance Protection
Recurring Buys Service
Merchant Facilities
GDAX Platform
Fee Can Be Confusing
Slow Customer Support
Delays Processing Bank Wires
Exchange Info
Country Where Coinbase is Based

California, San Francisco, United States
Supported Countries

Austria, Australia, Canada, Singapore, United States, Belgium, Bulgaria, Croatia, Cyprus, Czech Republic, Denmark, Finland, Greece, Hungary, Ireland, Italy, Latvia, Liechtenstein, Malta, Monaco, Netherlands, Norway, Poland, Portugal, San Marino, Slovakia, Slovenia, Spain, Sweden and Switzerland.
Our Expert Rating
Average User Rating
One of the very best known and one of the most used digital currency exchanges is of course Coinbase, and if you are thinking of become one of their users then the following review of Coinbase will enable you to decide whether they are suitable to your requirements and as such do read on.
The very first thing you will possibly be pleased to hear about them is that they offer you both an online and mobile exchange platform, and there are no differences in regards to the range of digital currencies that you are always going to be able to both buy or sell on those two platforms.
As such unlike some other digital exchanges you are not going to be forced to have to make any compromises in regards to the range and types of digital currency exchanges you can make when using either platform, which is of course always good to know.
Something else they offer is an insurance protection scheme and you will always have the peace of mind in knowing your funds are safe and secure and much more importantly insured should anything untoward happen with their exchange.
You may be worried about the security of the digital currencies held and stored on Coinbase, well in regards to the way they are stored the vast majority of them are held securely offline, and as such in the event of a hacking attack or anything similar their digital currencies are stored in such a way they are never vulnerable to such attacks.
One aspect of Coinbase that many investors in digital currencies do find very handy is that you are able to make use of their recurring buy service, and when doing so you are able to schedule ongoing purchases of any of the digital currencies they sell at a date and time in the future that best suits you and your trading needs.
It is not only a buying and selling service that Coinbase offer their customers, for they have also launched a range of merchant services that are going to allow anyone or any business that does wish to accept digital payments on their websites or even in their retail outlets to be able to do just that.
As such if you have been on the lookout for a digital currency exchange that will allow your company or business to accept any type of digital currencies then I would urge you to consider making use of that service.
When you have decided that you would like to buy or sell any digital currency, then one thing you are not going to want to have to be faced with having to pay are some ridiculously high trading fees and charges, as that will reduce the value of your investments both when you initially buy a digital currency and then when you go onto to sell it.
There are of course going to be fees and charges that you will be required to pay when using the Coinbase exchange, however they are not as expensive as some other exchanges and you will find and overview of those fees and charges both below an also on their website, so make sure that you do make a point of checking them out.
You can also make use of the GDAX trading platform of you are a serious investor of digital currencies and that platform is going to allow you to buy and sell digital currencies quickly and in a very professional yet seamless type of way.
That platform does come packed with features that those looking to make both high and low volume exchanges are going to appreciate.
With all of the above in mind there really is a lot to like about Coinbase, and if you are interested in signing up but want some additional facts and figures then please do read on, as below you should find all of the information you require and are looking for.
Detailed Information about Coinbase
You will never want to take any risks when you are converting your digital currencies into any other or exchanging it into a fiat currency, and as such that is why you should always find out as much about any digital currency exchange as you possibly can do so you can select the best one to use.
As such, below I am going to walk you through every aspect, benefit and feature that is going to be on offer and available to you if you do decide to sign up and start using Coinbase, so please do read on and digest all of the information below.
Coinbase Fees
Credit Card Buy Fees – 3.99%
Standard Buy/Sell Fee – 1.49%
ACH Transfer Fee – Free
Wire Transfer Deposit Fee – $10
*Other fees and charges may apply
Withdrawals from Coinbase
Bank Wire $25 and variable fees for other methods
Customer Support Details
Online ticket submission system checkout the Coinbase Help Database.
Conclusion
There is no doubt in my mind that if you do start to use any of the services available at Coinbase you are going to have a completely hassle free experience when you do so. That is why they have very quickly established themselves as one of the leading digital currency exchanges.
However, I am of course fully aware that not everyone knows the ins and outs of using a digital currency exchange, and if you are still unsure about buying or selling cryptocurrencies then please consult and make use of the additional guides you will find available throughout this website.
It is important that you fully research where to buy and sell digital currencies carefully as not all exchanges will be offering you the same things, so also consider comparing Coinbase with some other digital currency exchanges by making full use of the additional reviews I have put together on this website.
Frequently Asked Questions
Whilst you are very quickly going to master using the Coinbase digital currency exchange and will always have access to it once you sign up and register, there may be a few questions you do have about this leading digital currency exchange. If so please do read on as you may find the answers you are looking for below.
How busy is Coinbase?
How secure are my funds?
Can I buy cryptocurrencies regularly?
Does Coinbase offer retail services?
What is the exchange platform like?