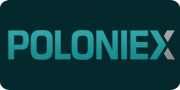 Pros & Cons
Easy to Buy and Sell
Lots of Storage Options
Alternative to Bitcoin
Multiple Exchanges Sell It
Not Currently Expensive
High Exchange Fees
Not as Popular as Bitcoin
Limited Retailers Accept It
Two Ticket Symbols
Still Growing in Popularity
Our Expert Rating
Average User Rating
One of the hardest decision you are going to have to make once you have made up your mind you would like to buy or sell digital currencies, will be just which digital currency exchange you will use to buy and sell Bitcoin or any type of crypto currencies.
There are not only lots of different cryptocurrencies you can choose to buy and sell, but there are now also lots of different digital currency exchanges too. Each of them however will be offering you a range of different features and you will always be best advised to compare what each of them will be offering you.
One of the exchanges that does come with a spotless and solid reputation however is Poloniex, and I am going to give you a full insight into what they are going to be offering you throughout this review, so please do read it through in its entirety and then compare what Poloniex has to offer you with any other exchanges that may have caught your attention.
Trust is an important factor in regards to just which digital currency exchange you do use, and that is something Poloniex is fully aware of. They are in fact a US based exchange and as such they are highly regulated and always adhere to the very highest of industry standards.
You can sign up to use their change in a minute or so, and once you have done so you are then going to be in a position to either buy any quantity of any of the digital currencies they have on offer, or if you have any holdings of any digital currencies you can also choose to sell them through their exchange too.
They do of course impose fees on their customers but when you do compare the fees you will have to pay with some other exchanges you will see that they are very competitive, below in this review I will give you an insight into what those fees and charges are so you can judge for yourself if they are reasonable.
One thing that is worth knowing is that Poloniex do not offer a mobile trading app, they only operate their exchange online, so as long as you have access to a computer or laptop then you are going to be able to place your trades very easily and with no delays either.
Keep in mind your funds are always safe and secure when using the Poloniex exchange and they do operate their exchange using the very highest safety and security protocols, which is important to know in this day and age with hacking attacks on the increase, much more so in regards to the digital currency environment.
If you are interested in using the services of Poloniex then please do read through this review and then get on over to their website for you will then be able to see firsthand just how their trading platform operates.
They do of course off live feeds of all of the values of every single digit currency you can buy and sell when using their exchange, which means you are always going to know just how much any unit of any digital currency is going to cost you when you place your order.
They do also offer a wide and very varied range of different payment methods so you are not going to be limited in any way shape or form in regards to how you can buy your chosen digital currency, and as already mentioned their fees and charges are not that excessive.
Also they do settle payments quickly, which means if you do decide to sell your digital currency holdings you are not going to have to wait for ages to receive the payment for your sale of those digital currencies.
Let me now move onto enlightening you on just what you will also find on offer and available to you when you do become a member of the Poloniex digital currency exchange, it is free to join and once you do so you are always going to in control of your own destiny in regards to just which digital and cryptocurrencies you do buy and sell.
Detailed Information about Poloniex
Always try and compare all of the features and individual benefits on offer to you at any digital asset exchange you may be thinking about signing up to, for there are of course some exchanges that are going to be offering you everything you need and often much more too.
If you have been thinking about signing up to and using Poloniex, then please spare the few minutes it will take to read through this very details review of that exchange, for by doing so you will then made able to make a decision as to whether it is suitable for you and your trading needs.
Poloniex Fees
There are both taker and maker trading fees that are going to be required to be paid when you use the Poloniex exchange, however they do offer a discounted fee schedule if you place a lot of buy or sell orders on their exchange.
I would urge you to first checkout their website to see the current fees and charges that will be imposed on you, and if you are a high volume user of their exchange then you are going to be benefitting from some rather large reductions in those fees and charges too.
Withdrawals from Poloniex
Much like all other digital currency exchanges you are going to find that there are many different ways that you can withdraw funds from your account, and you will also find many different fiat and digital currencies withdrawal options too.
Do always keep in mind though that the time scales for you receiving your withdrawals are always going to be down to just which payment method you choose, and whilst some of them are rapidly paid out there are some methods that can take much longer to be processed and received by you.
Customer Support Details
You will find a range of support services on offer at the Poloniex website and when you are logged into your account with them. Be aware that you will first need to make use of their help files to look up the nature of any questions or queries you may have at that will then relieve the pressure from their support team.
Conclusion
Poloniex is going to offer you what I can best describe as a fully rounded trading experience, and that is why they have become one of the most utilized digital currency exchanges by a huge and ever growing of people the world over.
You can start exchanging your fiat currencies into digital currencies in a matter of minutes once you sign up to their exchange, however if you are not 100% confident about doing so, then I do have lots of additional supporting guides that will answer any more specific digital currency related questions you may have.
But make no mistake about it, by using the services offered by Poloniex you are always going to be getting an unsurpassed experience and one you are going to be more than happy to do so time and time again, and they really are one of the very best digital currency exchanges available online.
Frequently Asked Questions
The way Poloniex have designed their digital exchange is such that you are soon going to get to grips and get the hang of using it. Please do read on however for below I will be answering additional questions that you may just have about different aspects of their exchange.
Are my trading funds safe?
How do I register?
Is the exchange secure?
How do I know the value of digital currencies?
Can I use a mobile version of the exchange?