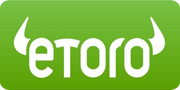 Pros & Cons
Bitcoin Pairings Offered
Trader Funds Segregated
Mobile App Available
PayPal Now Accepted
13 Language Option Settings
Some Country restrictions
No Digital Exchange
Withdrawal Fees Apply
Our Expert Rating
Average User Rating
eToro offers one of the most unusual of features to anyone who has an interest in trading currency parings. They are primarily a Forex Broker, and as such if you do enjoy placing any type of Forex related trades, including any digital currency ones then that is what you will be able to do as one of their traders
Opening an account at eToro is both quick and very easy, and once you have funded your newly opened trading account, then you can choose any two currencies you wish to pair up against each other in the hope the values move in the way you predicted.
However, they also offer a community type of trading feature, whereby you are going to be able to follow the top traders on their site, those being the ones who are making consistent profits.
You are under no obligation to do so of course, but if you are looking for some expert advice, or at the very least want to follow the leading traders then that is going to be an option you can take when you sign up there.
In regards to the trading platform itself, it is one that is very easy to use, but if you have never traded at a Forex Broker then please do allow me to give you a quick overview of how you are going to be able to place any type of trade.
You first need to look at the range of different currencies options, and then you need to select the one that you think is going to rise in value against any other, or the one that you think is going to fall in value against any other.
Once you have done that, you simply decide how much you wish to wager on your currency pairing, and the payout you will be awarded with, based on your invested amount will then be displayed on the screen.
The amount of time the trade will be in live for can vary, so you will obviously need to factor that into your choice of currency pairings. Then if at the time of the trade expiring if your prediction is the one that occurs then you will be paid out at the payout rate you took when striking that currency pairing trade.
Forex trading is a great way to get involved in making profits from the value of different currency fluctuations, much more so in regards to digital currencies such as Bitcoin, for as you will know the value of those currencies can and do fluctuate wildly.
Many people do wish to try and profits from the rise in digital currency values, but have been put off doing so due to the cost of actually buying those digital currencies, and also with all the high fees and charges when you both buy digital currencies and wish to sell them too.
If you are interested in becoming a Forex or digital trader at eToro then you will find their website is jam paced full of informative guides and articles that are going to show you how to place any type of trade.
Keep in mind though there are always going to be risks involved in trading both fiat and digital currencies, so do ensure that you are fully aware of the risks of doing so before you start playing your trades.
I would rate eToro highly, due to the fact you can find out just what trades the most successful traders are placing on their site and can automatically set your account to place the same trades those other traders are placing.
In fact, if you become a successful trader at eToro too you are also going to be able to allow other traders follow your trades too.
If you have been thinking about buying, holding onto and then selling digital currencies, then I think you should also consider joining a Forex Broker such as eToro as by doing so you are then going to simply profit from the rise and fall of the values of those digital currencies, but by doing so you will not have the initial cost of buying them.
Please read on for a full overview of each of the additional services that will become available to you if and when you sign up to eToro.
Detailed Information about eToro
The only real way you are going to be able to judge for yourself if eToro is going to be offering you the trading opportunities you are seeking is of course to find out what they are. But also just what else you are going to find on offer and coming your way as a user of their platform.
To help you make that all important decision, below I will walk you through everything that I feel you do need to know to make a well balanced and sound decision as to whether they are going to tick all of the boxes on your checklist of wants and demands.
eToro Fees
Fees vary on payment method and cryptocurrency trade fees apply
Withdrawals from eToro
To make a fast and speedy withdrawal you will simply need to log into your eToro account and then click onto the cashier button, by doing so their highly secure banking interface will then be launched.
You will find a plethora of different payment methods available to you which you can make use of to get paid out any withdrawals you wish to make, however keep in mind eToro do charge a fee for withdrawals, the fee that you will have to pay will be determined by the withdrawal method you have chosen to use and the amount of your withdrawal too.
The exact fee associated with each payment method is displayed very clearly on their banking interface, so you can make a well balanced decision on which one is going to be the most cost effective one for you to make use of.
Customer Support Details
There are many different ways that you can make contact with the team at EeToro, if you wish to write to them their UK address is eToro (UK) Ltd. 42nd floor, One Canada Square Canary Wharf E14 5AB London, United Kingdom
Their Europe based address is Worldwide Broker and Service Center, eToro (Europe) Ltd. KIBC, Kanika International Business Center, 7th Floor, 4 Profiti Ilia Street Germasogeia, Limassol, Cyprus 4046
If you wish to email them with any customer related questions please make use of their contact form found on their website. They do however also offer an instant chat service and the link to launch that instant chat service can be found on the contact us section of their website.
Conclusion
You are going to find the trading platform on offer at eToro is going to be very easy to use and has been designed to allow anyone who does wish to trade on the values of any fiat currencies or digital currencies to be able to do so both quickly and very easily too.
If you want to know the benefits of Forex trading as opposed to buying, holding onto and then having to sell a range of different currencies physically, I have made available on this website a huge range of Forex and digital currency guides that you should check out as they are very informative.
You really do owe it to yourself to only ever sign up to and start using a Forex Broker that will offer you everything you need, but also offer you a trading platform that is easy to understand and use too, and that is something eToro does offer.
Frequently Asked Questions
To help you fully understand everything about the services and trading platform on offer to you by eToro, in this next section of this review I am going to be answering quite a number of different questions you may just have about them and their services.
Can I trade against the value of Bitcoin?
Are my trading funds and deposits safe?
Do they offer a mobile app?
Can I deposit using web and e-wallets?
Are multiple language options available?