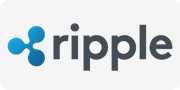 Pros & Cons
Many Exchanges Offer It
Multiple Purchase Options
Mobile Compatible
Online and Offline Storage
Verified Transactions
Purchase Fees Apply
Can Be Volatile
Fees to Pay When Selling
Not Many Merchants Accept It
Price Yet to Stabilize
Our Expert Rating
Average User Rating
Ripple has very quickly established itself as one of the main cryptocurrencies, it was released and went live in 2012 and was invented by Arthur Britto, David Schwartz, and Ryan Fugger.
It offers its users a real-time gross settlement system which is commonly known as RTGS along with a secure and it does have to be said a very easy to use currency exchange and remittance network.
As more and more people are now turning to cryptocurrencies as either a way to pay for goods and services online, I have put together below this very detailed review of Ripple to allow you to judge for yourself whether it is one that is suitable for your needs and requirements.
It was designed in such a way that it uses an open source Internet protocol, and to ensure that all transactions can be verified it also uses a consensus ledger.
The Ripple ticker symbol is XRP, and unlike some other cryptocurrencies users are not forced to have to use the Ripple Exchange as there are many additional digital currency exchanges that will allow you to buy and sell it with relative ease.
One of the main attractions for any company or business that uses Ripple is that is has been designed in such a way that no chargeback's can be preformed, which negates the possibility of fraudsters paying for goods and services and once obtained then charging back their initial payment and it is also a very low cost cryptocurrency in regards to transaction fees too.
Ripple can and does operate without the need for anyone involved in its development to  be on hand to operate any aspect of it and it is currently, as of the time of compiling this review, the third biggest cryptocurrency by market capital.
Cryptocurrency Exchanges Where to Buy Ripple
To enable you to buy Ripple at a price that is the highest one possible, what I would advise you to always do is to shop around and compare the prices at several different digital currency exchanges, for deposit what people will tell you, I have noticed the spot price can and does vary!
Therefore I did a quick spot check in regards to which digital currency exchanges offered the best spot rate for Ripple and which ones also had the most fluidity of that digital currency available, and below you will find the exchanges that did offer the best value.
Bithumb does appear to be currently the best exchange to use if you wish to buy into Ripple, and the other exchanges that a lot of people do tend to use include Upbit, Coinone, Bitfinex, Korbit and HitBTC too.
When you do set about hunting around for a digital currency exchange to use to buy any quantity of Ripple always keep in mind there are fees to be paid, and you should factor those fees into selecting the digital currency exchange to use, as some of them sadly do charge some very large fees which you are always obliged to have to pay!
What is a Ripple Wallet?
A ripple wallet is simply a digital address stored on a small piece of software that you download onto your computer or mobile device that allows you to then use that digital address as the way to receive Ripple or send it out to pay for goods or services for example.
It is however very important that you do get yourself a Ripple wallet for without one you are not going to be able to use Ripple!
What you are best advised doing however is to find a digital Ripple wallet that is best suited to you personally, but what you should also do is find a way of not storing your Ripple in your digital wallet for long periods of time, for you are best advised to store it safely and securely offline as by doing so your holdings will not be at risk.
Once you have chosen just which Ripple wallet to use and then you are going to next need to find a digital currency exchange at which to buy or sell any quantity of Ripple, and that is what I am going to be looking at in the next section of this review.
Ripple Exchanges
Ripple can be purchased from several different exchanges, and by using lots of different currencies and payment methods too, the one that do process the very highest volumes of them is Bithumb who on an average day processes XRP/KRW pairings of around $697,875,000 in value.
The Upbit exchange processes XRP/KRW exchanges of on average $392,320,000over a 24 hour period and the Coinone exchange offers XRP/KRW transactions, and when I checked over a 24 hour period they had processed a huge $185,594,000 worth of such transactions.
You will also find that the Bitfinex exchange offers XRP/USD exchanges and on a typical day they will process around $152,227,000of such transactions, so they do have a lot of fluidity on their exchanges.
Consider using the Korbit exchange if you want to perform XRP/KRW exchange for in a typical 24 hour period they handle on average $97,050,500of those transactions.
Make sure that you also checkout the HitBTC exchange if you want to perform a XRP/BTC exchange for they do handle a lot of those types of exchanges very seamlessly, and on average over a 24 hour period they had processed $86,247,500 of such transactions when I recently checked them out.
Which Ripple Exchanges Accept PayPal?
Ripple users are not going to be able to use PayPal at any Ripple digital currency exchanges to either pay for any unit of Ripple or as a payout method when they are selling Ripple at any digital currency exchange either.
The reason why you cannot buy Ripple at digital currency exchanges is that PayPal offers the option of charging back any payments make to pay for goods, and as such it is possible for the buyer of Ripple at a digital currency exchange to charge back their payment, even if they have been sent out their Ripple!
If you have no other option but to use PayPal as a way of buying Ripple or getting paid for selling any holdings of Ripple you wish to sell there is a way you can do so, but that will entail you doing a direct transfer to someone you know and trust who has Ripple for sale or who wishes to buy your Ripple and pay you using PayPal.
You could also use the services of a company such as Local Bitcoin as by doing so they will link you up with someone nearby where you live who wishes to buy or sell Ripple and you simply transfer your Ripple to their digital wallet or they will transfer them to you and you can pay them or they will pay you by using PayPal.
That company does allow people to rate their users and as such you will be able to decide for yourself whether the person you wish to make a transaction with is going to be reliable and trustworthy, but just keep in mind that you do have to take all necessary steps when you want to buy or sell Ripple using PayPal as there could be a chance that the person you do a transaction with could perform a charge back.
Using Ripple as a Gambling Site Payment Option
One market sector that has been revolutionized by Ripple and digital currencies in general is the online gambling industry, for there have always been problems experienced by some players at those sites in regards to finding a way to both fund their accounts and getting paid out winnings from their accounts too.
Also, it is very true to say that many gambler do not want to have to fund their gambling site accounts with any form of payment option that is linked up to their bank accounts, for it has been known for some banks to take a negative outlook at offering loans, overdrafts and even mortgages to people who have something of a passion for gambling!
Therefore what you are going to find is quite a lot of gambling sites, which can include bingo, poker, sports betting and even casino sites that are going to allow you to fund your accounts using Ripple as your chosen payment method.
However, you will still of course be able to make your deposits in your own chosen fiat currency as the banking interfaces at those gambling sites will do all of the currency conversions for you, and as long as you have a Ripple Wallet you will be able to fund your gambling site accounts instantly and in real time too.
One additional benefit that Ripple does also offer gamblers in particular, is that when they request a withdrawal from any gambling site account they are going to get paid out their winnings instantly at many sites, so gone have the days of gamblers being forced to wait weeks or even months to get paid out their winnings!
Do of course take the necessary precautions when you are looking for a site to gamble at using Ripple, and I would suggest that you stick to those that offer a range of games and a software platform from one of the more well known companies, as that way you will know the poker, bingo or casino games you play are fair and random!
Conclusion
Whilst I am not in any shape or form a financial adviser, in regards to whether I think Ripple is a cryptocurrency worth investing in, I would say as long as it price stays at a reasonable level then it is certainly a potential investment for you to consider making.
The future of Ripple does look interesting and to be perfectly honest that is why I feel it does have potential to be one of those digital currencies that are likely to be going strong many years from now, which sadly cannot be said for the vast majority of them.
The price of Ripple has obviously grown significantly from its launch price, but that is something that most digital currencies do, but it is their popularity that will determine over the long term as to whether they will continue to increase in price and will then find their own true value naturally.
What I would strongly advise anyone who is thinking of investing in or intends to use Ripple as the way they buy goods and services and move money around is to ensure that they have in place a way of storing it offline, for the number of ways that people are devising to hack into people's digital wallets is always a concern to me.
I do think that over the foreseeable future however that Ripple is going to remain one of the top 10 digital currencies, and you are going to see volatility in its price.
I doubt that over the next few months at least, if not over the following years that Ripple is going to become higher in value than Bitcoin however in the crazy world of digital currencies it is true to say that anything is possible, so always keep that in mind and pick which digital currencies you do buy into carefully.