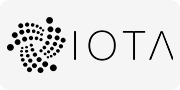 Pros & Cons
Relatively Low Cost
Lots of Investor Interest
Price May Skyrocket
Fee Free Transactions
Attractive Alternative to Bitcoin
Still in Development
Possible Investment Opportunity
Limited Exchanges Sell it
True Value Unknown
Our Expert Rating
Average User Rating
It is not only the general public who have been showing great interest in cryptocurrencies, for many large companies have also started to show an interest in them, and when one or more trusted and large company buys into any cryptocurrency the price and popularity of them increase.
That has certainly been the case with IOTA, for that cryptocurrency has started to collaborate with companies such as Fujitsu, Deutsche Telekom and Microsoft and that has not gone unnoticed by investors in cryptocurrencies.
Thanks to that collaboration, IOTA is now, by its market capitalization, the eleventh largest cryptocurrency, and it is often one that people look to when they are seeking an investment opportunity ,and one that isn't as expensive to buy into as some other cryptocurrencies are, as its unit price is still relatively modest.
I have compiled the following review of IOTA as I am aware many people are thinking of buying into that cryptocurrency too, however before I do give you a much deeper insight into it, allow me to give you a general overview of how it works and how it has been designed.
IOTA is first and foremost an open-source distributed ledger and its main aim is to allow for the secure communication and for the payment for goods and services.
Its design is such that is uses something known as a directed acyclic graph technology and therefore it doesn't use the much often used blockchain.
One thing however that does appeal to a great many users of IOTA is that all transactions processed are free no matter how small or large in value those transactions are!
Other major features and benefits of using IOTA are that the processing confirmation times are fast, and there is no limit what so ever in regards to how many transactions can be processed at the same time. It was David Sønstebø along with Sergey Ivancheglo, Dominik Schiener and Dr. Serguei Popov that founded IOTA back in 2015.
Cryptocurrency Exchanges Where to Buy IOTA
One aspect of being able to start using or even investing in IOTA that may confuse you initially is where you are going to be able to actually store and be sent out any units of that digital currency you have chosen to buy and where you actually are going to be able to buy it from.
All digital currencies are designed in a very similar ay and the way in which you buy them is by finding a digital currency exchange which is where you can not only buy IOTA but also sell it as and when you do want to sell any holdings you have of that digital currency.
In the next couple of sections I will be enlightening you on the most popular IOTA digital currency exchanges and will be letting you know about digital wallets too.
A digital wallet is simply somewhere that you are going to be able to store your IOTA and each one has a unique digital address which is how an exchange is able to send out any orders of IOTA you place, so with that in mind please do read on to discover which are the best digital wallets and the best IOTA digital currency exchanges currently available.
IOTA Digital Wallet
The only way that you are going to be able to start using IOTA is by getting a digital currency wallet, and you have several of them available to you and the way in which you use them is by downloading one onto your computer or any type of mobile device.
Once you have fully downloaded and installed your IOTA digital wallet then you are good to go, for there will be a unique digital address associated with that digital wallet and that is the one you must give out to anyone who is going to be sent you ITOA.
If you want to send any IOTA units to anyone else then you use your digital wallet to do so and all that you are going to have to get is the digital address of that other person's digital wallet and then use it to send to them the quantity of IOTA that you wish to send them.
In regards to where you can actually buy and sell IOTA, I will be taking a look at that very topic in the next section of this review, so please read on to find out just how easy it is to both buy and sell IOTA.
IOTA Exchanges
IOTA can be purchased from several different exchanges, and by using lots of different currencies and payment methods too, the one that do process the very highest volumes of them is Bitfinex who on an average day processes IOTA/USD pairings of around $31,953,400in value.
The Coinone exchange processes IOTA/KRW exchanges of on average $14,866,300over a 24 hour period and the Binance exchange offer IOTA/BTC transactions and when I checked over a 24 hour period they had processed a huge $12,763,200worth of such transactions.
You will also find that the Bitfinex exchange offers MIOTA/BTC exchanges and on a typical day they will process around $8,971,940of such transactions, so they do have a lot of fluidity on their exchanges.
Consider using the Binance exchange if you want to perform any IOTA/ETH exchanges for in a typical 24 hour period they handle on average $5,348,270of those transactions.
Make sure that you also checkout the OKEx exchange if you want to perform an IOTA/BTC exchange for they do handle a lot of those types of exchanges very seamlessly, and on average over a 24 hour period they had processed $3,835,930of such transactions when I recently checked them out.
How Can I Buy IOTA with PayPal?
IOTA users are not going to be able to use PayPal at any IOTA digital currency exchanges to either pay for any unit of IOTA or as a payout method when they are selling IOTA at any digital currency exchange either.
The reason why you cannot buy IOTA at digital currency exchanges is that PayPal offers the option of charging back any payments make to pay for goods, and as such it is possible for the buyer of IOTA at a digital currency exchange to charge back their payment, even if they have been sent out their IOTA!
If you have no other option but to use PayPal as a way of buying IOTA or getting paid for selling any holdings of IOTA you wish to sell there is a way you can do so, but that will entail you doing a direct transfer to someone you know and trust who has IOTA for sale or who wishes to buy your IOTA and pay you using PayPal.
You could also use the services of a company such as Local Bitcoin as by doing so they will link you up with someone nearby where you live who wishes to buy or sell IOTA and you simply transfer your IOTA to their digital wallet or they will transfer them to you and you can pay them or they will pay you by using PayPal.
That company does allow people to rate their users and as such you will be able to decide for yourself whether the person you wish to make a transaction with is going to be reliable and trustworthy, but just keep in mind that you do have to take all necessary steps when you want to buy or sell IOTA using PayPal as there could be a chance that the person you do a transaction with could perform a charge back.
Gambling Site That Accept IOTA
Good news if you are user of IOTA and are something of a gambler too, there are several companies that are now in the design phases of launching a range of games that can be accessed and played online for real money on which you can use ITOA as your chosen deposit option at those sites.
Be aware though that as time goes by you are going to see more and more established online and mobile casino sites that will allow you to fund your accounts at those sites using ITOA and will also be able to make a withdrawal from your account and get then paid out to you using IOTA.
If you do take a look around the web you are also going to come across many other types of gambling sites other than just casino sites that accept a wide and very varied range of different digital currencies, so you are never going to go short on such sites to gamble at!
Many offshore based Sportsbooks for example now allow their customers to make deposits and get paid out their winnings using Bitcoin and Ethereum and there are also bingo and poker sites that are slowly but surely starting to accept digital currencies too.
But one thing I always urge anyone who does fancy gambling online to always make sure of is that the gambling sites they do decide to sign up to and gamble at are fully licensed and regulated, for that ay you are not going to experience any problems that can't be very quickly addressed at those sites.
Also, and this is important, if you do come across any gambling related sites that do accept any type of digital currencies make sure the ones you do sign up to an gamble at also have a system in place whereby they are going to pay you out your winnings instantly, as many such sites do offer instant payments back to all digital wallets!
Conclusion
The element of risk attached to any digital currency you buy into is something that you will always need to keep in mind, for you only have to look at some other digital currencies, and Bitcoin springs to mind, to understand that any investment you do make into some digital currencies does carry a high amount of risk.
However, today savvy investor in digital currencies have already learn that it is better to spread the risk of their investments and look to invest in some of the much lower priced digital currencies, but those that have also found their feet so to speak and are ones that many people have chosen to invest in.
That is something I do feel that IOTA offers people and as such it is one of those digital currencies that I have chosen to invest in but not with huge amounts of cash!  Have spread risk over several different digital currencies for I am of the opinion by spreading risk you are much more likely to have your money invested in at least one that may see a huge increase in its value.
Whilst I very much doubt that over the foreseeable future IOTA I going to become as popular with investors and users as Bitcoin has become, it still does have the potential to become a reserve digital currency that people are prepared to use due to the fairly reasonable and low level of risk attached to it.
But as with any digital currency you are thinking of investing in, please do ensure that IOTA I one of them you are aware of the risks of, but by keeping your holdings of that digital currency to a reasonable level you a not going to find it an expensive one to buy into that's for sure.