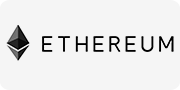 Pros & Cons
Readily Available
Fairly Inexpensive
Multiple Wallet Options
Online and Offline Storage
Established Cryptocurrency
Expensive to Mine
Purchases Fees High
Selling Fees High
Value Often Volatile
Our Expert Rating
Average User Rating
Ethereum is one of the most popular open-source cryptocurrencies available and being available to the public and being a blockchain-based distributed computing platform you are not going to find it hard to buy or sell, and there are plenty of digital currency exchanges that do have it online offer.
The main attraction of Ethereum for those with experience in dealing with and using cryptocurrencies is that is uses a smart contract scripting functionality and is a cryptocurrency that provides decentralized Turing-complete virtual machine which is quite aptly known as the Ethereum Virtual Machine or EVM for short.
Much like many of the other cryptocurrencies that have launched and gone live recently Ethereum is bought and sold using a token called ether, which can be very easily and securely transferred between users, so anyone with a compatible digital currency wallet is going to be able to accept Ethereum into that wallet or transfer any unit of Ethereum out of that wallet too.
The Ethereum system went live in 2015 but it was in the latter months of 2013 that it was proposed as a cryptocurrency by Vitalik Buterin. The initial funding for Ethereum was made possible thanks to an online crowd sale in July and August of 2014. A total of 11.9million pre-mined coins, which was approximately 13% of the total circulating supply were then made available on the 30th of July 2015.
Cryptocurrency Exchanges Where to Buy Ethereum
Ethereum Changes in 2016
Major changes occurred back in 2016 which saw Ethereum being split into two completely separate and independent blockchains, the original one became Ethereum Classic with the ticker symbol ETC and the second version being Ethereum identified with the ticker symbol ETH.
One thing I would advise anyone who is thinking of using Ethereum to always remember, is that it was designed with the aim of allowing anyone and in any country to seamlessly move money around and pay for goods and services in a low cost and hassle free way, and not as an investment opportunity.
However, having said that as cryptocurrencies are so new and with many of them showing some impressive increases in regards to their value, Ethereum has become one of the most popular cryptocurrencies and one that a huge number of people are choosing to buy with the sole purpose of making a financial return and profit and therefore it has become an investment opportunity.
Having said that though I have started to see an increase in regards to the number of companies and businesses that will now accept Ethereum as a form of payment method allowing users of that digital currency to pay for goods and services, which is certainly not the case with many of the much more recently launched cryptocurrencies.
Storing Ethereum Safely
I would strongly urge anyone who is new to the world of cryptocurrencies to think long and hard about the way in which they are going to store any holdings of Ethereum they choose to buy or have been sent, for there are many hackers and the suchlike who are eager to relieve you of your holdings. As such consider using an offline storage tool as that way your Ethereum holdings are never going to be vulnerable to any type of hacking attack.
The downside of being someone who does buy into Ethereum is that you are going to be forced to pay fees and charges when using a digital currency exchange, for the operators of those exchanges are of course businesses that are seeking to make a profit.
The fees and charges however can and do vary depending on just which digital currency exchange you use, and therefore never be complacent about simply signing up to the very first exchange you come across, for by comparing any fees and charges you can often make some substantial savings when you do shop around and look for one offering a reasonable set of charges and fee.
Reasonable Ethereum Transaction Fees
It should also be pointed out that as Ethereum is a commonly used cryptocurrency and one that has gained the trust of many users and exchanges alike, you will find you can buy many other digital currencies with Ethereum if you so desire, and also sell other digital currencies and get paid for any holdings you sell at those exchanges in Ethereum.
By doing so you are then going to be hit with just one single set of fees as opposed to turning Ethereum into a fiat currency and then buying another cryptocurrency with that fit currency, which will of course see you then being hit with two lots of fees and charges.
As the cryptocurrency trading environment is always maturing rapidly there are a number of new digital currency exchanges that are going to be offering you a range of different features and tools, so do consider doing some research for what any new exchange may be offering such as you may find some that will send you out a prepaid type of debit card that you can link up to your Ethereum wallet or a range of additional features and services.
In regards to the volatility of Ethereum, much like other cryptocurrencies you are going to find its value can bounce around all over the place, and as such you do need to time your purchase or sale of it at just the right time.
However, it is important to understand that the cryptocurrency environment is currently still maturing and as such the price of any cryptocurrency including Ethereum is always going to be subject to supply and demand, and as such you should never be spooked into selling your holdings of Ethereum if the price starts to fall.
What usually happens, as has been proving time and time again is that any mad panic in regards to selling any one single cryptocurrency will see some exchanges going into lockdown and you will then experience delays and problems trying to sell your holdings, and the savviest investors will simply ride out the lows and wait for the price to recover.
Avoiding Ethereum Scams
I have also seen some weird and wonderful attempts to get novice investors and users of Ethereum and other cryptocurrencies to invest in Ponzi type schemes, if you are new to the world of cryptocurrencies then you need to be aware of that fact and only ever buy Ethereum from a reliable and trusted exchange, and also never be taken in by claims of huge returns being offered by some of those Ponzi type scheme.
Trying to get an understanding of how to mine for Ethereum can often leave some people completely bewildered, and I would strongly urge anyone who is thinking of attempting to mine for Ethereum to be aware of the sheer cost of doing so for it is often the case that miners have to invest some huge amounts of cash to get the hardware to start mining for Ethereum and the ongoing costs can be huge too, and it is often much easier to simply buy Ethereum from an exchange rather than try and mine for it.
How to Buy Ethereum
I never found it to be time consuming or troublesome to buy Ethereum online once you get a digital wallet designed for that digital currency, for there are plenty of digital currencies exchanges that offer it as one of their listed cryptocurrencies. Much like all other established cryptocurrencies I found it was the major and better known exchanges that have plenty of liquidity of Ethereum available, and as such I would steer you towards Binance, OKEx, Bithumb, Bitfinex and GDAX as those are the top five exchanges that handle the largest volumes of Ethereum trades each day.
Using an Ethereum Wallet
You will of course need to get a digital currency wallet that has been designed for Ethereum, for that is where you will be sent any units of that digital currency you buy from a digital currency exchange and it is also how you will be able to transfer Ethereum to other people or businesses. Whilst I have found no shortages of such wallets available those that currently have the best reviews associated with them include Coinbase, Ledger Nano S, TREZOR, Exodus and Mist
Using an Ethereum Currency Exchange
The two defining features that you should be looking out for from any digital currency exchange is low fees and charges along with plenty of fluidity, for that will ensure you are not paying more than you should do when buying or selling any units of Ethereum and will also be able to exchange any volume too. As mentioned above those exchanges I would steer you towards using and those that do handle huge volumes of Ethereum each day are towards Binance, OKEx, Bithumb, Bitfinex and GDAX.
Can You Buy Ethereum with PayPal?
I have not discovered any digital currency exchanges that are going to allow you to buy Ethereum with PayPal, but one workaround is to buy Bitcoin with that web wallet and then use the Bitcoin you have bought to then go onto by Ethereum. Another option is for you to buy Ethereum from someone you know and then get them to transfer it to your digital wallet and then pay them for it using PayPal. But I would avoid doing such a transfer with anyone you do not know or trust.
Ethereum Gambling Opportunities
Many gambling sites have very quickly warmed to offering many different cryptocurrencies to their users, for with many such sites unable to accept credit or debit cards from players based in some countries of the world cryptocurrencies do act as a prefect workaround to that problem. I would however strongly advise you to sign up to only those gambling sites that have tried and tested software that offer provably fair games  and also those gambling sites that are licensed and regulated too.
If you are interested in using Ethereum to pay for your deposits into any gambling related site then be aware that some of them will use units of Ethereum as the currency of your account, whilst some will simply allow you to make a deposit using your Ethereum digital wallet and get that deposit turned into another fiat currency, so you can then gable in a chosen fiat currency as opposed to using units of Ethereum.
Conclusion
I want to be 100% confident when buying digital currencies of any type that they are readily available and there are plenty of other people using them too, for that gives plenty of fluidity on digital exchanges and I will never have any problems either buying or selling them too. As Ethereum is currently the second most popular cryptocurrency it is one I do trust and unlike Bitcoin its value isn't out of the reach of most people and doesn't have the ridiculous volatility that Bitcoin does either.
It is of course up to you whether Ethereum does offer you everything you are looking for from a cryptocurrency, but in regards to its availability you will never experience any problems being able to buy or sell any holdings you wish to buy or sell on.
But if you are looking for something of a initial digital currency to invest in or use to pay for goods or services then I would highly recommend Ethereum for it is the second highest market capital cryptocurrency and is an established one too, and whilst there are always going to be risks investing in cryptocurrencies Ethereum is not one of the very high risks ones.