Manny Pacquiao To Retire After 2020? 3 Fights Expected Before!!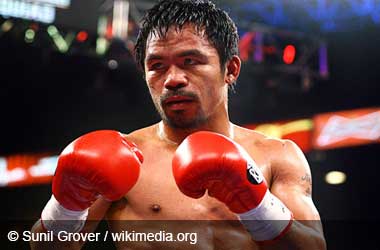 Manny Pacquiao is considered to be one of the greatest boxers to have ever graced the ring.
The 40 year old Filipino fighter does not look to have lost his legendary speed and has just about the same intensity and cardio that he did 10 years ago.
Having signed with Premier Boxing Champions and Al Haymon, the list of potential matches for Pacquiao has grown exponentially.
It is highly unlikely that Pacquiao will remain an active fighter after 2020 and hence his fans will want his remaining three fights to be against top opponents.
Top Rank Boxing
The Three Potential Opponents Are:
We think these three fights will make a lot of sense for Pacquiao as they are both challenging and also financially rewarding.
Danny Garcia
Danny Garcia (34-2) has only lost twice in his career. On April 20, he has a fight against Adrian Granados, and if he comes out victorious, he will be one of those fighters who will be expected to challenge Pacquiao for a fight.
Garcia is good with counter-punches, but he is not really as quick as Pacquiao and it will make an interesting matchup for boxing fans.
Omar Figueroa Jr.
Omar Figueroa Jr. (28-0-1) is undefeated at 29 years old. Figueroa is looking to establish his credibility as a boxer after having been on hiatus for nearly two years. Just recently, he was able to score a win via unanimous decision against John Molina Jr.
The former world champion would be a budding challenger for Pacquiao, as he can boost his brand by beating Pacquiao. However, Pacquiao's experience and craftiness will give him the edge, if this fight was to be made.
Floyd Mayweather Jr.
Pacquiao's swan song should be against Floyd Mayweather Jr., and nobody else. This is the best fight that Pacquiao can ever have competitively in terms of the physical aspect. In the financial aspect, this would prove to rake in millions of dollars considering that their first fight earned up to $600 million.
The first fight was criticized as boring and was certainly less competitive that boxing fans expected. MayPac 2 will no doubt create record pay-per-view numbers as both Mayweather and Pacquiao will most likely never fight again. The two fighters have teased fans in recent months about a second fight and it is quite possible that Mayweather will give Pacquiao his desire for a rematch as Mayweather needs another big payday.