Will This Be The Last Wimbledon For Federer & Murray?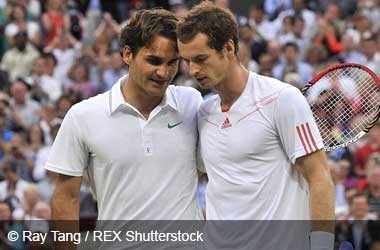 Roger Federer and Andy Murray are among the very few players who have left such a distinct mark at Wimbledon.
Federer who is one of the greatest players to have graced the courts has won 8 Wimbledon Championships – which is a record by itself.
Brit Andy Murray has only won three grand slams in his career but two (2013 and 2016) of those were at Wimbledon which gave British fans so much to celebrate and remember.
His 2013 Wimbledon Championship win was a dream come true for Murray who made it to the 2012 Wimbledon final but lost out to Federer.
Could This Be Last Wimbledon For Federer?
Federer recently hit another milestone when he entered the history books for winning 100 tournaments. The 37 year old is now ranked number four in the world and will give it his all at the All England Lawn Tennis Club to see if he can win his 9th Wimbledon Championship.
Wimbledon runs from July 1 to July 14 and the next month Federer will turn 38. While Federer is still a force to be reckoned with in men's singles matches, there are a number of younger players who are now confident of beating the former World Number one.
There are rumours floating around that this could very well be the last time British fans see Federer playing men's singles at Wimbledon. The Swiss great has been reluctant to put a timeline on his retirement plans and has taken it one season at a time. If he goes onto win Wimbledon, it is highly likely that we will see him return in 2020 to defend his championship.
However, if he has a poor run and bows out during the early stages, it could very well be the final time Federer at Wimbledon.
Andy Murray Could Grace Wimbledon In Doubles
Andy Murray shocked everyone earlier this year when he announced that he would like to retire at Wimbledon. The British tennis player wanted to quit playing tennis due to the amount of injuries and pain he has had to battle with throughout his career.
Murray has completed a hip surgery successfully and is currently focusing on his rehabilitation. He admits that it is unlikely he will be able to play men's singles at Wimbledon but says he is more likely to play doubles or mixed doubles and grace the All England Lawn Tennis Club one more time!