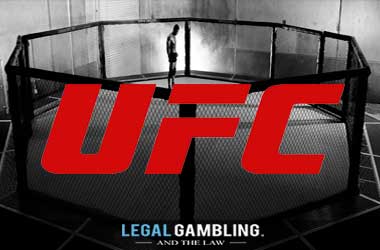 MMA fans thought they would never see Henry "Triple C" Cejudo compete in the UFC again as the former two division champ retired over 3 years ago. Cejudo is set to make his return at UFC 288 when he challenges current bantamweight champ Aljamain "Funk Master" Sterling to see if he can get his belt back!
UFC 288 is set to take place on May 06 at the Prudential Center in Newark, New Jersey and will be headlined by a 5 round Main Event between Sterling vs. Cejudo. This will be another pay per view card where there is just one championship fight scheduled.
The co-Main event will Gilbert Burns take on Belal Muhammad in a fight that will decide the next contender for the UFC welterweight championship after champ Leon Edwards and Colby Covington fight.
The UFC has decided to make this non-title fight a 5 round fight. This will also be the second back-to-back co-Main event that Gilbert Burns is fighting at as he was also part of the co-Main event at UFC 287.
UFC 288 will also feature a number of exciting fights such as Phil Hawes vs. Ikram Aliskerov; the undefeated Movsar Evloev vs. Bryce Mitchell and the return of Kron Gracie who will fight Charles Jourdain.
Best Sports Betting Sites for UFC 288
If you are looking to place a few bets on UFC 288, then you should consider signing up at any one of our recommended sportsbooks. Register now and get a great welcome bonus and access to bet on all UFC events and other global sports.
UFC 287 – what happened?
UFC 287 was headlined by UFC middleweight champ Alex 'Poatan' Pereira who was defending his title for the first time against former champ Israel 'The Last Stylebender' Adesanya.
Adesanya had called for an immediate rematch after losing his title to his nemesis Alex Pereira and many fans felt that Adesanya would lose yet again as Pereira had beaten Adesanya 2-0 in the kickboxing arena and 1-0 in the UFC.
Adesanya finally got his revenge as he put on a fantastic performance in the Octagon and ended up stopping Pereira in the second round by TKO. Adesanya handed Pereira his first loss in the UFC and was thrilled as he not only beat the Poatan but also regained his belt.
There is unlikely to be another rematch between Adesanya and Pereira anytime soon, as Pereira has announced that he is going up a weightclass and will now fight at lightheavyweight while Adesanya is expected to fight once more before the end of the year and defend his middleweight belt.
The co-Main event saw Gilbert Burns take on veteran Jorge Masvidal and the fight went as we had expected in our preview to the event. Burns dominated Masvidal for all three rounds and ended up winning by decision. Masvidal decided to call time on his legendary career and retire from MMA.
* Odds have been provided by Everygame and are accurate of May 01, 2023
Main Event Breakdown: UFC Bantamweight Championship
Henry Cejudo said he decided to come out of retirement after a 3 year hiatus because he finally started feeling that fire in his belly and the desire to compete in the Octagon again. Triple C said that when he watched the champ Aljamain Sterling fight, he knew that he could beat him as he saw many holes in his game.
Cejudo has told media in the lead up to this fight that the 3 year break did him a lot of good, physically and mentally. He claims that he is now in the best shape of his life and ring rust will not stop him from beating Aljo at UFC 288.
The champ has defended his bantamweight belt successfully on three occasions but this time around, it is going to be his biggest test. Aljo tends to rely heavily on his wrestling but he will not have that edge against Triple C and Cejudo has won a gold medal at the Olympics in wrestling. Aljo will have the edge in the height and reach department and will also be the heavier fighter.
Aljo has said that his goal in the bantamweight division is to beat Cejudo, then beat Sean O'Malley and move up to featherweight as he wants to give his friend and training partner Merab Dvalishvili a chance to fight for the belt.
Triple C will have the advantage in terms of fight IQ as Cejudo has spent the last 12 months coaching and training some of the greatest MMA fighters including "GOAT" Jon Jones and Demetrious Johnson.
Aljamain Sterling (c) (22 – 3 – 0)
Odds to win: -115 (1.86)
Aljamain Sterling has decent striking and a fantastic ground game. Aljo has relied heavily on his wrestling to get him out of trouble, whenever he has been in trouble on the feet. He is likely to deploy a similar strategy against Triple C as he will look to take him down as use his weight to tire Triple C out and then submit him.
The champ goes into this fight as the betting favorite but not by much as this is expected to a very closely contested fight. We think Aljo will have the advantage in the first two rounds and must do as much damage as possible to Triple C and look to finish the fight.
Once the fight gets into the 3rd round, it is quite possible that Aljo will slow down as Triple C likes to fight at a very fast pace. Aljo should also look to use his height and reach advantage in the striking department and see if he can catch Cejudo off-guard and knock him out!
Henry Cejudo (16 – 2 – 0)
Odds to win: -115 (1.86)
Cejudo is widely regarded as one of the top minds in MMA as he has phenomenal fight IQ and is great at watching footage and finding the weaknesses of an opponent. While Cejudo is a slight underdog in this fight, you can bet Triple C and his team have done their homework and have a great plan to exploit any weaknesses in the champ's game.
The big question is will Triple C have any ring rust due to the 3 year layoff and how will Cejudo's cardio hold up should it get past the 3rd round. Cejudo is small made and is used to fighting taller and bigger fighters, so Aljo's height and reach will not intimidate him. We expect Cejudo to be a lot quicker than Aljo and we feel that will give him the edge.
Prediction: Cejudo's fight IQ gives him a massive edge over the champ and we expect him to finish Aljo and get his belt back!
Co-Main Event: Welterweight Bout
Gilbert Burns decided to push the UFC and fight in back to back pay per views and the UFC obliged by giving him another co-Main event. Do keep in mind that this will be a 5 round fight even though it is not for a championship belt.
Belal Muhammad tends to rely heavily on his wrestling to outpoint his opponents but will need to be weary when fighting Gilbert Burns who is a BJJ black belt. Burns will not mind if Belal tries to take him down as Burns has some crazy submissions both off his back and on top.
Burns will be in top fighting shape as he fought at UFC 287 while Belal last fought at UFC 280 in October 2022 when he stopped Sean Brady in the second round. This will be his biggest challenge in the UFC as Burns not only has a great ground game but also pretty good hands.
Belal Muhammad (23 – 3 – 0)
Odds to win: +100 (2.00)
Belal Muhammad looked a different fighter when he had Khabib Nurmagomedov in his corner. Khabib has since retired from coaching and will not be in Belal's corner against Gilbert Burns.
Belal who is the underdog in this fight needs to push the pace throughout all 5 rounds and make sure that Burns does not take him down. If he does get taken down, Belal needs to make sure he does not end up in a submission and do his best to get up immediately or the fight could be over pretty quickly.
Gilbert Burns (22 – 5 – 0)
Odds to win: -130 (1.76)
Burns is the betting favorite in this fight and will not be too worried about what Belal can do to him either on the feet or on the ground. While Burns will be confident in his skills, we need to see how his body will cope with back to back weight cuts and will it have toll on his cardio, if the fight goes the distance.
Prediction: We expect Burns to win this UFC fight in either the 4th or 5th round by submission.