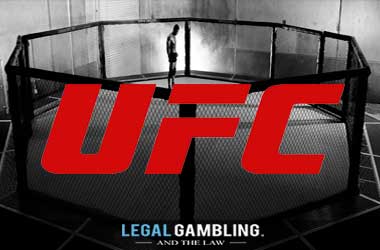 Former UFC middleweight champion Israel 'The Last Stylebender' Adesanya will look to reclaim his belt when he faces his nemesis in current champ Alex 'Poatan' Pereira. The two fighters will headline UFC 287 which is set to take place at the Miami-Dade Arena in Miami, Florida, on April 08.
Adesanya lost for the first time at middleweight in the UFC when he fought Pereira at UFC 281 in Nov 2022 and lost by TKO, which we had predicted in the 5th and final round. Adesanya wasted no time in calling for an immediate rematch and the UFC granted him his wish, even though his head coach Eugene Bareman was initially reluctant to let Adesanya get back into the Octagon so quickly.
UFC 287 will feature just one title fight but the rest of the card is still stacked as some big names in the UFC will make an appearance on this card.
Some of the fights to watch out for include the co-Main event when Jorge 'Gamebred' Masvida will fight Gilbert Burns at welterweight, you have another banger at welterweight when Kevin 'Big Mouth' Holland takes on veteran Santiago Ponzinibbio and the young Raul Rosas Jr. will fight Christian Rodriguez.
Best Sports Betting Sites for UFC 287
MMA fans looking for a reliable sportsbook to bet on for UFC 287, can choose any one of our featured betting sites as they offer an attractive welcome bonus and extensive coverage of UFC pay per view and Fight Night cards.
UFC 286 – what happened?
UFC 286 took place at the O2 Arena in London, England and was headlined by a welterweight fight when British champ Leon Edwards defended his belt for the first time against former champ Kamaru Usman who he was fighting for the 3rd time in the UFC.
Edwards won the belt by head kicking and knocking out Usman in their second fight after Usman ended dominating most of that fight. Many fans felt that Usman was unlucky and got caught but Edwards was confident going into UFC 286 that he was the better fighter.
It turned out to be a close fight as Edwards and his team had a great game plan which involved throwing a lot of kicks and not giving Usman time to settle down. The fight went all 5 rounds and the judges ended up giving the fight to Edwards.
The co-main event between Justin Gaethje and Rafael Fiziev was expected to be a banger and it delivered, just like every other Justin Gaethje fight in the UFC. Fiziev was the faster and better strike in the first round but as the fight progressed, Gaethje got better and caused more damage, especially in the third round. The fight went to the judges and Gaethje (our pick to win) won by decision. This fight ended up as the Fight of the Night with both fighters getting $50,000.
* Odds have been provided by Betonline and are accurate of April 03, 2023
Main Event Breakdown: UFC Middleweight Championship
Israel Adesanya looked unstoppable at middleweight as he was clearly the best striker in the division. The UFC ended up signing Brazilian Alex 'Poatan' Pereira who was the only fighter to have beaten Adesanya twice in the kick-boxing arena.
The UFC fast tracked Pereira through the middleweight division and gave him a title shot at Adesanya at UFC 281. This was the first time that the two fighters had faced each other in an MMA fight and Adesanya looked pretty good for most of the fight.
There was one point in the fight early on when Adesanya rocked the Poatan but the Brazilian quickly recovered and kept putting pressure on the champ until he got caught with a flurry of heavy punches in the 5th and final round that caused the referee to stop the fight.
Initially Adesanya was upset and thought it was an early stoppage, until his head coach convinced him that it was the right call. Adesanya was disappointed to lose for the third time to his nemesis and called for an immediate rematch.
Adesanya has told media in the lead up to this fight that he knows this will be his last crack at Alex Pereira and that he must win this fight! Adesanya goes into this fight with a lot more pressure than his previous fight because he knows the Poatan is full of confidence that he can make it 4-0!
Alex Pereira (7 – 1 – 0)
Odds to win: +117 (2.17)
Alex Pereira showed in their previous fight that unlike other fighters who have faced Adesanya, he is not scared of moving forward and getting hit. Pereira is definitely as good a striker as Adesanya is and some might say even better! Pereira is certainly the bigger fighter and the one with the heavier shots.
Pereira has been working hard with his head coach former UFC lightheavyweight champ Glover Teixeira who is helping the Poatan with his ground game which is likely to be tested at UFC 287.
Even though Pereira is the champ, he goes into this fight as the betting underdog and that is likely because Adesanya dominated most of their fight before Pereira caught him with a flurry of heavy shots.
Pereira will want to prove to MMA fans that he has got Adesanya's number and can stop him again!
Israel Adesanya (23 – 2 – 0)
Odds to win: -137 (1.73)
Adesanya has not had a lot of time to see what went wrong in his previous fight against Pereira and make significant changes. Adesanya goes into this fight as the betting favorite and says he has had an amazing training camp and is ready to face Pereira once again and give it his all!
We know how good Adesanya is on his feet but what we need to see is how has the TKO impacted him mentally! For Adesanya to win, he needs to mix up a few takedowns just to throw Pereira off his game. If he is only going to stand and strike with Pereira, he runs the risk of getting caught once again!
Prediction: We think Adesanya has rushed into this fight a little too soon and should have listened to his head coach and taken a longer break. We expect Pereira to win once again by KO or TKO but likely within the first 3 rounds.
Co-Main Event: Welterweight Bout
The co-Main event will see one of the biggest stars in the UFC, Jorge 'Gamebred' Masvidal make his return to the Octagon to take on Brazilian BJJ ace Gilbert Burns. Masvidal is very keen on not just winning this fight but winning in impressive fashion as he wants to push his case to get a title shot against current welterweight champ Leon Edwards as the two have history.
Burns knows that if he can finish Masvidal, he can make a strong push to be next in line for a title shot once Edwards and Colby Covington fight for the title. Burns has shown in the past that his striking has improved tremendously but his biggest strength is on the ground.
Masvidal is known for his hands and his ground game isn't the greatest as we saw in his last fight against Covington which he lost by decision mainly because he could not stop the takedowns.
Gilbert Burns (21 – 5 – 0)
Odds to win: -465 (1.22)
Brazilian Burns goes into this fight as the heavy betting favorite as Burns has shown he is not afraid to stand and strike with anyone. Burns has a strong chin and also heavy hands which can rock Masvidal should he get caught.
Burns is likely to play it safe in this fight as he will look to take Masvidal down and submit him. We don't believe Masvidal has the take down defense to stop Burns from getting him down and fight off his submissions.
Jorge Masvidal (35 – 16 – 0)
Odds to win: +365 (4.65)
Masvidal is a crafty veteran who knows his best chance in the fight is to catch Burns early on and see if he can knock him out. Masvidal's best chance to win this fight is to keep Burns on the backfoot so that he does not have any chance to shoot and take him down.
If Masvidal gets taken down, he needs to make sure he tries to get up and does not stay in guard as it could be a long night for Gamebred if he adopts this strategy.
Prediction: We expect Burns to take Masvidal down, get his back and submit him in either the second or third round by rear naked choke (RNC)!
If you would like to see the full card, go to the official UFC site and look at UFC 287.