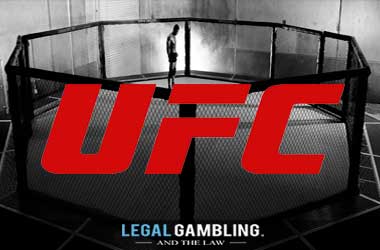 The UFC makes its way to Madison Square Garden (MSG) for UFC 281 which goes down on Nov 12. This UFC pay per view card will feature two championship fights with the UFC middleweight championship on the line in the Main Event and the women's strawweight championship on the line in the co-Main Event.
Israel Adesanya is set to defend his middleweight championship for the sixth time! This is going to be his most difficult test because the challenger Alex Pereira has beaten Adesanya twice in a kick-boxing arena and is now determined to do it again in the UFC Octagon and become the new champ. Before these two go to war, UFC bantamweight champ Carla Esparza will defend her belt for the first time against former champ Weili Zhang.
Our experts will break down both the Main Event and co-Main event below, look at the current betting odds and tell you who we think will win and why!
Best Sports Betting Sites for UFC 281
If you are looking for reliable sportsbooks that offers MMA action and features all of the UFC pay per view and fight night cards, then you should pick one of our recommended betting sites listed below.
UFC 280 – what happened?
Before we take a look at UFC 281, let us do a quick recap of UFC 280 which took place on 22 Oct in Abu Dhabi. The Main Event was a massive fight in the lightweight division where former champ Charles Oliveira tried to reclaim his belt against Islam Makhachev who was the betting favorite. The fight did not last long as Makhachev submitted the best submission specialist in the UFC as he finished Oliveira in the second round to become the new UFC lightweight champ.
The co-Main event was a disappointed for the fans as former champ and challenger TJ Dillashaw injured his shoulder in the very first round and was trying to fight the champ Aljamain Sterling with just one hand. The fight did not end well for Dillashaw as Aljamain finished with a TKO in the second round. Dillashaw would later reveal that he suffered a shoulder injury in camp but did not want to pull out!
* Odds have been provided by BetOnline and are accurate of November 7, 2022
Main Event Breakdown: UFC Middleweight Championship
Israel Adesanya hasn't looked very impressive in his last couple of title fights even though he has won. Fans have been disappointed with Adesanya's performance as they felt Adesanya was fighting to win by points instead of trying to be dominant and finish the fight. The challenger Alex Pereira also criticized the champ's performance in his last fight against Jared Cannonier and said he wasn't impressed at all!
Israel Adesanya (c) (23 – 1 – 0)
Odds to win: -180
Israel Adesanya has defended his performance in his last two fights by claiming that he needs proper dance partners to put on a great fight. He has a perfect dance partner in his old nemesis Alex Pereira who isn't looking to go all 5 rounds and leave it to the judges. Adesanya has entered his previous fights with the edge as he is an exceptional striker in the UFC. However, he has met his equal in Pereira who is a fantastic striker and we believe has even greater power than Adesanya.
If Adesanya feels he cannot dominate Pereira on the feet, he should consider taking the Brazilian down and trying to either submit him or finish him with ground and pound because Pereira spent more of his fighting career in kickboxing and not wrestling.
Alex Pereira (6 – 1 – 0)
Odds to win: +155
Alex Pereira was specifically brought into the UFC to challenge Adesanya as the champ was running through his division quickly and did not appear to have any serious contenders. Pereira has had only 3 fights in the UFC and has already managed to get himself a title shot after he beat Sean Strickland in his last fight on 03 July.
Pereira goes into this fight very confident that he will be able to take out Adesanya yet again and has played mind games with the champ on social media, posting reels of him hunting an animal with a bow and arrow. While Adesanya might think of taking Pereira to the mat, it may not be that easy as Pereira has been working his ground game with former UFC lightheavyweight champ Glover Teixeira who has a fantastic ground game.
Adesanya could also struggle to get Pereira to the ground because Pereira is going to weigh a lot heavier than Adesanya when they fight.
Prediction
Pereira is going to be the most dangerous in the first couple of rounds as he has incredible KO power in his hands and feet. Adesanya will have to be on his guard and not let his hands drop or he will have his lights put out. If the fight gets past the third round, we feel that it will swing in Adesanya's favour because he has a lot more experience in the Octagon than Pereira.
We are going to back Pereira to cause an upset and win by TKO.
Preview Of Other Main Events
Title Fight 2: Women's Strawweight Championship
The co-Main Event will be another 5 round championship fight as Carla Esparza looks to make her first title defense successful. She has a formidable opponent in China's Weili Zhang who is determined to reclaim her strawweight championship.
Carla Esparza (c) (20 – 6 – 0)
Odds to win: +295
Carla Ezparza caused a massive upset when she defeated Rose Namajunas at UFC 274 to become the strawweight champion. Esparza took some time off to get married and have some down time before agreeing to her first title defense. She's got a big test ahead of her as Weili Zhang is regarded by many of her peers to be the best strawweight fighter in the division.
This is one of the reasons why Esparza goes into this fight as the betting underdog. Esparza has always relied on her wrestling to beat her opponents as she isn't a great striker as she does not have a great reach as she is only 1.55 m in height and is generally the shorter opponent in all of her fights.
Esparza will once again look to take Zhang down and try to submit or finish her with ground and pound but it isn't going to be easy!
Weili Zhang (22 – 3 – 0)
Odds to win: -360
Zhang is a huge betting favorite to win this fight and understandably so as she is better in the striking department and is no pushover when it comes to the clinch or the mat. Weili Zhang has worked on her takedown defense and wrestling knowing clearly well what Esparza's game plan is going to be.
Zhang has also worked on her strength training and recently posted a video where she easily lifted UFC heavyweight champ Francis Ngannou of his feet and surprised him!
Prediction
We think Esparza will struggle to take Zhang down and will find the pace and strength of Zhang too much to handle for all 5 rounds.
We expect Zhang to win by TKO.