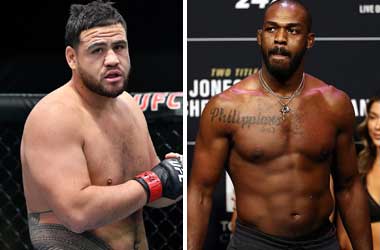 Summary
Tai Tuivasa says he rates Jon Jones as the MMA Goat

Tuivasa will headline a UFC Paris card against Ciryl Gane on Sep 3
Tuivasa would relish the opportunity to fight Jon Jones at heavyweight
Aussie Tai Tuivasa is ranked number 3 in the UFC's heavyweight division. He is set to headline UFC Fight Night 209 on Sep 3 in Paris, France when he takes on Frenchman and former UFC heavyweight interim champion Ciryl Gane.
Jon Jones Is The MMA Goat For Tuivasa
Tuivasa is one of the most popular stars in the UFC due to his aggressive fighting skills and his ability to entertain the crowd with his popular shoeys (where you pour beer into a used shoe which can belong to anyone, spit in it and then drink it).
Tuivasa is currently doing media in the lead up to his fight against Gane and he took some time to give credit to Jon Jones. The Aussie heavyweight said that in his opinion he considers Jon Jones to be the greatest of all time (GOAT) in MMA. However, he also said that he considers Jones "a dickhead" due to his antics outside the Octagon (48.20).
Jon Jones hasn't fought in the UFC for the last two years after relinquishing his UFC lightheavyweight title and moving up to heavyweight. Jones is yet to fight at heavyweight but is apparently ready to fight and is waiting on the UFC to announce an opponent for him.
The UFC would ideally like Jones to fight for the heavyweight title right away but current UFC heavyweight champ Francis Ngannou is recovering from a knee injury and could be sidelined for the end of the year. If Ngannou is out for the rest of 2022, the UFC might look to create an interim title fight and have Jon Jones fight former UFC heavyweight champ Stipe Miocic.
Tuivasa Keen On Fighting Jon Jones
If Tuivasa gets a win over Gane in Paris, he pushes himself closer to securing a title shot after Jon Jones and Stipe Miocic have a crack. Tuivasa said that he would relish the opportunity to step into the Octagon and face Jones.
When asked if he thought if Jones would accept the fight, Tuivasa gave Jones credit saying that he was known to fight everyone and anyone. Jones is yet to respond to Tuivasa's remarks!