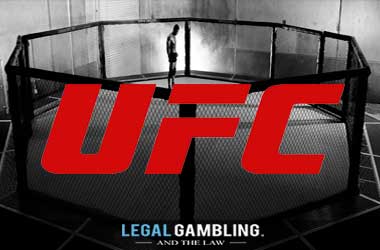 UFC's first pay per view card of 2023 will take place on Jan 2021 at the Jeunesse Arena in Rio de Janeiro, Brazil.
There were some concerns last week as to whether UFC 283 would go ahead as per schedule due to the political unrest in Brazil. As of now, it looks like things are under control and UFC 283 will progress without any issues which will get the Brazilian bettors excited.
The UFC has packed this card with Brazilian fighters and is expecting another sold out arena. The Main Event will see former Brazilian champ Glover Teixeira take on Jamahal Hill for the lightheavyweight championship. The co-Main event will see Brazilian flyweight champ Deiveson Figueiredo fight his nemesis Brandon Moreno for the fourth time!
Our MMA analysts give you a breakdown of the Main Event and co-Main event. We also share with you the current betting odds and our expert predictions below.
Best Sports Betting Sites for UFC 283
If you are looking to bet on UFC 283 or on regular MMA action, sign-up at any of our featured sports betting sites today! Apart from loads of MMA action, our featured sportsbooks also cover a great selection of mainstream and niches sports taking place around the world.
UFC 282 – what happened?
Jan Błachowicz and Magomed Ankalaev headlined UFC 282 for the interim lightheavyweight championship and the fight ended in a unanimous draw. There was some controversy surrounding the judging as some felt that Ankalaev should have won the fight.
UFC President Dana White who's reputation is taking a dive thought otherwise and felt that Błachowicz and Ankalaev put up a boring fight that was disappointing. Instead of opting to give them a rematch, White decided on the very same night to book a UFC lightheavyweight title fight between Glover Teixeira and Jamahal Hill and announced the same at the UFC 282 post fight presser.
The co-main event saw rising British star Paddy Pimblett take on Jared Gordon in what turned out to be another boring fight. The fight went the distance which when we previewed the event, didn't think would happen though Paddy the Baddy still ended up winning by decision. UFC fans thought this was the worst decision of the night as fans felt that Gordon had clearly won the fight and was robbed by the judges. The fans turned on Paddy after UFC 282 and continue to go after him on social media!
* Odds have been provided by Everygame and are accurate of January 16, 2023
Main Event Breakdown: UFC Lightheavyweight Championship
Former champ Glover Teixeira was given the opportunity to Main Event UFC 282 and face Magomed Ankalaev for the interim championship but he declined the opportunity saying he needed more time to prepare for a sudden change of opponent. Glover who is 43 years old and nearing the end of his career got a lucky break after Dana White announced that he would fight Hill for the official lightheavyweight championship.
Jamahal Hill was also extremely happen to be given a title shot as otherwise, he would have had to wait a full year and win another couple of fights to get a title shot. Hill has a tough challenge ahead of him as he travels to Brazil to see if he can beat Glover in hostile territory.
Glover Teixeira (33 – 8 – 0)
Odds to win: -105 (1.95)
Glover Teixeira is the former champ and is fighting at home but he still goes into this fight as the betting underdog. The main reason for these betting odds is because Glover is 43 and Hill is 31 years old and hence the younger fight does have a slight edge.
However, Glover has shown in the past that he will not let his age stop him in anyway. The former UFC lightheavyweight champ had a great fight against Jiří Procházka at UFC 275 in June 2022 and ended up losing his belt in the dying minutes of the final round after Jiri submitted him.
Glover showed in that fight that he still has what it takes to fight at the highest level whether it be on the feet or on the ground. He's had a lot of time to prepare for this lightheavyweight fight as he was initially set to rematch Jiri and went through a full training camp before Jiri pulled out with a shoulder injury.
Glover will go into this fight full of confidence as he is fighting in Brazil and will have massive support. While Glover had a decent stand-up game, we expect him to try and take Hill down and submit him.
Jamahal Hill (11 – 1 – 0)
Odds to win: -125 (1.80)
Hill is the slight betting favorite in this fight not just because he is the youngest fighter but also because he has only lost one fight in his MMA career so far. Hill has fantastic boxing and great KO power and knows that he can put Glover's lights out if he connects with one well timed shot.
Hill will have to be wise and not let the crowd get into his head as it's a very different experience fighting in Brazil, especially when you are up against one of the most respected fighters not just in Brazil but around the world.
Hill needs to make sure he does not empty the gas tank as this is a 5 round fight. He will also need to make sure his take down defence is point as Hill's one loss is at the hands of Paul Craig who submitted him.
Hill's best opportunity to win will come in the first two rounds but if Glover can push it into the third round, he will be in a better position to win.
Prediction: We think the experience and fight IQ of the veteran Glover Teixiera will help him win and regain his lightheavyweight championship!
Preview Of Other Main Events
Title Fight 2: Flyweight Championship
The UFC flyweight division has been dominated for the last couple of years by Deiveson Figueiredo and Brandon Moreno. The will do battle for the fourth time in Brazil as Figueiredo looks to defend his belt against Moreno.
The UFC rarely proceeds with a trilogy fight but decided that a 4th fight between Figueiredo and Moreno was due for two reasons. The first reason is because three fights between these two gladiators have been fantastic to watch and the fans want more. The second reason is because the fights have been so close that it's still hard to tell who the better fighter is and a 4th fight will hopefully settle the issue.
Their first fight was at UFC 256 which ended in a majority draw and Figgy retained his belt. The second fight was at UFC 265 and it was all Moreno as he submitted Figgy with a rear naked choke. Their third fight was at UFC 270 and it was similar to their first fight that went to the judges and Figgy got the decision.
Deiveson Figueiredo (c) (21 – 2 – 1)
Odds to win: -115 (1.86)
Figgy is confident that he will put an end to the Moreno saga by stopping him and not leaving it to the judges. Figgy had an edge in the third fight after training with Henry Cejudo but he hasn't spent a lot of time training with Cejudo for this fight as he has done most of his training in Brazil.
Figgy will need to make sure his takedown defense is on point and that he does not let Moreno take his back and submit him again.
Brandon Moreno (ic) (20 – 6 – 2)
Odds to win: -115 (1.86)
Moreno has had to deal with a change of camp as the UFC banned all fighters from training under James Krausse who is under the spotlight and being investigated for fixing fights. Moreno was force to change camps and we don't know how that is going to impact his game plan and his mindset going into this fight.
Moreno will also have to deal with fighting in hostile territory and will be under added pressure as he knows he must win this fight or it could be another year before he gets another title opportunity!
Prediction: We are going to back Figgy to win due to the home advantage and the fact that Moreno had to change camps suddenly!
To check out the full list of fights for UFC 283, check out the official UFC website.