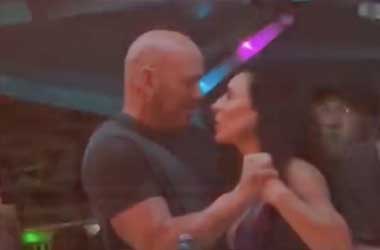 Summary
Dana White addressed media for the first time since slapping his wife
ESPN, UFC and Endeavur will not punish White for hitting his wife
White says his punishment is walking around with a tarnished reputation
There were calls for Endeavor and ESPN to sack UFC President Dana White who coincidently recently launched "Power Slap League", after a video emerged showing Dana White and his wife getting into an altercation where she slaps him and he retaliates by slapping her twice .
Dana Finally Addresses Media Over Incident
Apart from doing a 2 minute interview with TMZ, the day after the incident, Dana White has avoided the media for the last couple of weeks as the UFC and White have been on vacation. Dana finally fronted the media on Wednesday and did not dodge any questions about the incident but addressed them with a straight face.
Some MMA media and women's groups have pointed out that Dana was getting VIP treatment from ESPN and Endeavor as there was little to no media coverage on the incident after the initial video.
Dana told reporters that there were a lot of internal discussions with the UFC, ESPN and Endeavor and said no one was happy with what took place. Dana asked media members what kind of punishment were they expecting, as a 30 or 60 day suspension would not hurt him but instead would do more harm to the UFC and the fighters who needed him.
Dana Details What His Real Punishment Is
Dana said his real punishment was having his reputation tarnished by the incident. Dana said he has always advocated that a man should never put him hand on a woman, no matter what and that's something he violated.
Dana said that his biggest punishment would be to live the rest of his life with the reputation that he was "a wife beater". He said he knew many of his UFC employees, friends, acquaintances and fighters would now see him in a different light due to how he responded.
A number of UFC fighters had supported Dana and pointed out that it was his wife who slapped him first and started the physical altercation. Fighters defended Dana saying that when you put your hands on someone, you must be prepared for retaliation.
Dana made it clear that he does not want anyone to defend him nor his actions as he was in the wrong and once again reiterated that there was no reason for a man to put his hands on a woman! Ahead of UFC Vegas 67, why not checkout the latest odds from some of the best MMA betting sites.