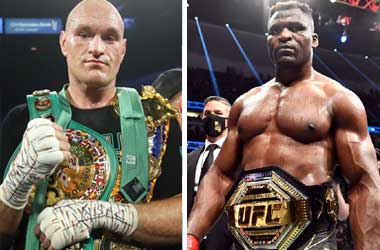 Boxing fans around the world were teased earlier this year with the possibility of two of the biggest heavyweight fights taking place in Saudi Arabia before the end of 2023.
There were talks of Tyson 'the Gypsy King' Fury headlining the card against Oleksandr Usyk and the co-Main Event was a fight between Anthony Joshua vs. Deontay Wilder.
Those fights did not materialize and Fury apparently got so frustrated waiting for Oleksandr Usyk's camp to sign a contract that he decided to take a fight with ex-UFC champ Francis Ngannou. Fury and Ngannou's camp wasted no time in agreeing to the terms and conditions and they got the fight done.
The Tyson Fury vs. Francis Ngannou fight is set to take place on Oct 28 at the Boulevard Hall — Riyadh, Saudi Arabia. The fight will be sold as a pay per view (PPV) on ESPN+: at $79.99. The fight will also be streamed on a number of other platforms including DAZN.
While influencer boxing fights involving the Paul brother's (Jake and Logan) have hogged the limelight during the last couple of years, this fight between the Gypsy King and Ngannou is getting a lot of attention as the cross-over promotion between boxing and MMA is generating a lot of interest.
The undercard for the Fury vs. Ngannou fight is also well-stacked with a number of heavyweight fights that will please hardcore boxing fans. The co-Main event will be a fight between Fabio Wardley vs. David Adeleye. Another fight to look forward to is a heavyweight bout between Carlos Takam and Martin Bakole.
Best Betting Sites To Bet On The "Battle of the Baddest"
Punters who would like to bet on the Tyson Fury vs. Francis Ngannou fight should register at any of our featured betting sites below. All of our featured sportsbooks cover top boxing fights and UFC fights taking place around the world. Sign-up today, claim your welcome bonus and place your bets today!
The Journey To Fight Night
Tyson Fury is the WBC heavyweight champ who has never been defeated in 15 years of fighting. Fury who is 35 years old stands at 6'9 and has a 33-0-1 record and weighs 122 kgs. His record stands with 22 of his wins coming by way of stoppage.
His last four fights have all ended by stoppage and Fury has once again promised to give his fans another KO victory against Ngannou. Fury fought twice in 2022 when he defeated Dillian Whyte and Derek Chisora. He hasn't fought in 2023 and that's one of the reasons why he was keen to sign on the dotted line and fight Ngannou.
Francis Ngannou has not had the opportunity to engage in a professional boxing fight till date. He is an MMA fighter who had a pretty good run in the UFC and went on to become the heavyweight champ before relinquishing his title and pursuing a big money payday boxing fight which he got when he signed up to fight Tyson Fury.
Ngannou is 37 years old, weighs 117 kgs and stands at 6'4. Ngannou's last MMA fight was in Jan 2022 when he fought Ciryl Gane and won by decision. Ngannou is known for his one punch KO power which is what helped him to make a name for himself in the UFC!
The fight will take place over the course of 10 x 3 minute rounds where 3 judges will score the fight using the 10 point rule. This fight is not an exhibition fight and will be treated as a professional boxing fight and will take place in a boxing ring that spans 24 feet.
Tyson Fury is so confident that he will walk through Francis Ngannou that his camp has already negotiated a potential fight with WBA, WBO, IBF champ Usyk next with the fight set to take place in Dec 2023 or Jan 2024. Ngannou found this a little disrespectful and warned Fury that he will only be able to fight Usyk if he is able to leave the fight unscathed!
Things to Watch For
* Odds have been provided by William Hill and are accurate as of 24/10/2023
Real boxing fans who may not purchase the PPV have already concluded that this fight will be a walk in the park for Tyson Fury. However, Fury has made it clear that he is not taking Ngannou lightly and is doing quite the opposite. The Gypsy King says that when he fights a professional boxer he usually does a 6 week training camp but has decided to go through with a 12 week training camp for Ngannou.
Fury said that because Ngannou is not a professional boxer and brings a very different boxing style to the ring, he wanted a longer training camp to prepare for the unexpected. Fury who is never shy to speak his mind, has promised to march forward in this fight and not be daunted by Ngannou's crazy one punch power! Fury has promised to jab, jab, jab Ngannou, rock his head back and then put his lights out inside of 6 rounds.
Ngannou has hired former heavyweight legend Mike Tyson to help him with his preparation for this fight with Fury. Ngannou said that he isn't going to look for a KO of Fury and is also open to winning by decision! In the UFC, whenever Ngannou has managed to hit his opponent flush on the chin, he usually puts them to sleep!
Tyson Fury (31-0-1)
Current Odds: 1/14 (1.07)
Tyson Fury is a modern day gladiator that is afraid of no man and has the record to prove it. Fury continues to be the A side in any boxing fight because of his undisputed record and the fact that he isn't afraid to talk trash and promote the fight.
Fury's enjoyed exceptional success because of a number of key factors. Fury is exceptionally tall at 6'9 and usually tends to enjoy a huge reach advantage over his opponents. The Gypsy King also has tremendous footwork, exceptional head movement and a robust defence that has helped him face power punchers like Deontay Wilder and still win!
Against Ngannou, Fury is the huge betting favourite and rightly so! He brings in a wealth of experience in the boxing ring while his opponent has none. Fury also has tremendous fight IQ in the boxing world and Ngannou has very little as all his fights have been in MMA.
Fury has also said that he has put in the work with a 12 week training camp, given the fact that he hasn't fought at all in 2023. The only weakness for Fury in this fight, is if he gets complacent and allows Ngannou to catch him with a haymaker. While Fury has taken heavy shots in his fights against Wilder and shown the world that he does have an exceptional chin, he should look to avoid getting hit by Ngannou at all costs!
Francis Ngannou (17-3-0*)
*in the UFC
Current Odds: 7/1 (8)
Francis Ngannou pushed for this fight against Fury as he wanted to take advantage of the influencer boxing fighting trend and collect a big pay check. Ngannou has surprised a lot of people in MMA with his power and his ability to not let the underdog status overwhelm him.
However, this is going to be a different ballgame all together for Ngannou as there are too many factors going against him. Ngannou hasn't fought in over 18 months in any type of combat sports and will definitely have ring rust. Even though Ngannou is training with Mike Tyson, he isn't going to gain high level boxing technique and boxing IQ in the space of a few months that will be able to counter Tyson Fury.
One of Ngannou's biggest disadvantages is going to be his physique and cardio. Ngannou is built like a tank and has tremendous KO power but tends to get tired as the fight progresses. Ngannou has gassed out multiple times during his UFC career when the fight when past 10 minutes.
Ngannou's best chance of beating Fury will be in the first 3 rounds. He should look to throw caution to the wind, force Fury to go on his heels and look to land a haymaker!
Prediction
In a boxing fight, you always have a puncher's chance and that's all Ngannou needs to win in this fight. He needs to land one big punch and put Fury to sleep! The big question is whether he will be able to do that against Fury!
Given Fury's defensive technique and experience, we don't think Ngannou is going to succeed in stopping Fury and given his cardio, we don't think he will last 10 rounds and go to a decision!
We are going to back Tyson Fury to win this fight and win by stoppage. If you are looking to take a risky bet, then go ahead and back Fury to win by stoppage inside of 6 rounds!
The odds for this fight ending in a draw is currently at 20/1 (21.00)