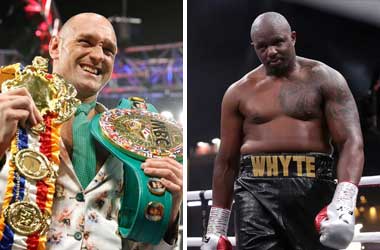 On April 23rd, Tyson Fury will take on Dillan Whyte at Wembley stadium, in what could turn out to be a clash for ages. The undefeated WBA Heavyweight World Champion will face his long-standing mandatory challenger – a man who has waited over four years for his shot at the title.
For Whyte, this moment has been a long time coming, after beating just about every other top 10 heavyweight contenders in the world over the past few years.
With 19 knockouts in 30 professional fights, and one of the meanest right hooks in the sport right now, "The Body Snatcher" from Brixton will be determined to hand Fury his first career defeat.
Having never lost as a professional fighter, Fury is rightfully being touted as a true great of British boxing. And yet, for all his obvious brilliance, you simply cannot write off Whyte.
Best Betting Sites To Bet On The WBC and The Ring heavyweight Bout
Things to Watch For
* Odds have been provided by William Hill and are accurate as of 07/04/2022
After building up a 16-0 record, Whyte's first career defeat came against former world champion Anthony Joshua back in 2015. The 33-year-old more than held his own in the brawl, rocking AJ several times. Last time out, Whyte avenged his 2020 knockout loss to Russian fighter Alexander Povetkin, with a clinical finish of his own in March 2021. Before that, Whyte racked up excellent wins over contenders like Joseph Parker, Oscar Rivas and Derek Chisora.
Fury, meanwhile, will come into this month's bout on the back of one of his toughest ever tests – last October's trilogy war with Deontay Wilder. The Gypsy King had to drag himself off the canvas to earn a spectacular 11th Round stoppage win, extending his professional record to 31 fights without ever tasting defeat.
The only slight blemish on Fury's record is a draw from 2018, which also came against Wilder. Even that performance has to be put into context mind, as Fury had just come back from a two-year boxing break. As well as winning the trilogy fight, the Brit was also victorious when fighting Wilder for a second time in Vegas, dominating the bout before stopping him in the seventh round.
Tyson Fury (31-1-0)
Current Odds: 1/6
The key to this fight will be the motivation of both men. With Fury having (by his own admission) already achieved his dream of becoming world champion, Whyte could be the hungrier of the two. After all, a mandatory defence against Whyte isn't the big money fight that Fury was hoping for in 2022.
Before Joshua's loss to Oleksandr Usyk at the Tottenham Hotspur Stadium last year, Fury v AJ was earmarked as the biggest fight that could be made in world boxing. It unquestionably would have been the biggest fight in the entire history of British boxing. And yet, AJ's rematch with Usyk kicks that particular can down the road, instead of creating room in the calendar for Fury to fight Whyte. But will the man from Manchester be as motivated for a title defence?
Dillian Whyte (28-2)
Current Odds: 4/1
It's worth noting that Whyte hasn't fought for over a year, after his October 2021 fight with Otto Wallin was called off due to an injury sustained in camp. Interestingly, Wallin faced Fury back in 2019, losing on the judges' scorecards following a surprisingly close contest. Ring rust is an all too real phenomenon in boxing, and Whyte's inactivity over the past 12 months could be an issue against an opponent as elusive as Fury.
The pot of gold at the end of the rainbow for both men is clear, with the victor at Wembley almost certainly going on to fight the winner of Joshua v Usyk later this year. Should Whyte and Joshua both come through their respective world title bouts, they could face each other in the ring for a second time – both as world champions. However, the old foes will have to hand Fury and Usyk their first professional defeats.
Whyte possesses serious power in both fists, but that isn't his only major asset. He's shown a tremendous amount of heart down the years, sticking it out when times get tough – just like Fury has on several occasions.
Prediction
Unsurprisingly, Fury is a clear favourite in this bout. The towering heavyweight is 1/6 to win outright, while Whyte is a distant 4/1 (at the time of writing). A draw can be found at 39/1, but given Fury's clear supremacy in both height and boxing ability, we can regard this as a highly unlikely outcome.
By contrast, Whyte is back at 5/1 to win via KO, and a massive 22/1 to edge the fight on points. Fury is most heavily tipped to take the fight late on, with a win in Rounds 7-12 just 2/1. One of the most interesting lines is round betting, as Fury is 14/1 to win in rounds five through to nine.
While Whyte is very much expected to try and score an early knockout, the game plan for Fury is far trickier to pin down. In years gone by, we've seen him keep the fight long against big punchers, most notably Wladimir Klitschko. And yet, against Wilder – arguably the biggest puncher of all time – he went for the kill, scoring KO wins in two of their three bouts. If Tyson Fury 2.0 is all about search and destroy, it could be a very early night indeed for his opponent.