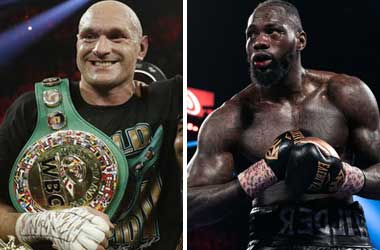 Professional boxing puts together some of the biggest events imaginable and on October 9 at the T-Mobile Arena in Las Vegas, Nevada we'll see another chapter in the historic story that is the heavyweight lineage of this great sport. On that night, Tyson Fury and Deontay Wilder will meet for a third time with The Ring and WBC heavyweight titles on the line in what is easily one of the biggest fights of the year.
All the way back in December 2018 we saw Fury and Wilder lock horns for the first time in a bout that many favoured Wilder to win as a result of the inactivity from "The Gypsy King" in comparison to "The Bronze Bomber". Instead, Wilder and Fury played out a controversial draw – despite Deontay seemingly knocking Fury out late in the contest.
Just over one year later in February 2020, mere weeks before the COVID-19 pandemic really took hold, Fury tore through Wilder with a vicious TKO win in what has, to date, been the last fight for both men before this point.
Best Betting Sites To Bet On "Once and For All" Bout
The journey to fight night
It's no secret that this was not supposed to be the fight that happened this year with a summer meeting between Anthony Joshua and Tyson Fury initially being touted for Saudi Arabia. Both men were on the verge of signing the contracts when a court of arbitration ruled that Fury must instead battle Deontay Wilder for a third time, springing a surprise on the masses who thought it was finally time for Joshua and Fury to collide.
The third showdown between Fury and Wilder was also delayed from July 24 to October as a result of a COVID-19 outbreak within Tyson's camp.
Things to Watch For
It's not been officially dubbed a semi-final because that's never been how pro boxing works, but there's definitely a mini-tournament feel to proceedings with respect to what's happening in the heavyweight division. Just a matter of days ago we saw Oleksandr Usyk spring a real surprise by defeating Anthony Joshua via unanimous decision – thus taking his titles and becoming "the man to beat" on the road to undisputed.
It's not been confirmed by any stretch, mainly because Joshua has a rematch clause, but you'd have to imagine the winner of Fury/Wilder 3 will collide with Usyk at some point down the road.
Dreist Studios
* Odds have been provided by Bet365 and are accurate as of 28/09/2021
Tyson Fury (30-0-1)
Current Odds: 1.30
Tyson Fury has had to come face to face with his fair share of demons over the years but in that time one thing has remained true – he's the best natural heavyweight boxer in the world. He's said it ever since day one and he's been able to prove it time and time again, forcing the masses to forget about what they once knew regarding this weight class.
The wins over Tom Schwarz and Otto Wallin are all well and good but it's the triumphs over Wilder and Wladimir Klitschko that will forever stand out as real moments of glory for a guy who, in the eyes of the elite, was never supposed to get to this point in the first place.
Deontay Wilder (42-1-1)
Current Odds: 3.40
Deontay Wilder has the most insane knockout power we've ever seen in pro boxing and that isn't an overstatement. We've seen guys and girls who can get their opponent out of there pretty quickly in the past, but Wilder is on an entirely different level. In a similar manner to Francis Ngannou over in the UFC, all he needs to do is touch you and there's a pretty solid chance you're going out.
The two wins over Luis Ortiz have arguably served as his most impressive conquests with many believing the "draw" against Fury shouldn't have been a draw whatsoever, highlighting once again just how important it is for Wilder to get back in the win column here. If he doesn't, it wouldn't be all too surprising to see retirement on the horizon.
Prediction
The great thing about heavyweight boxing is that it can all change in the blink of an eye and that's what we're counting on in this one. We all know that the dream match was going to be Tyson Fury vs Anthony Joshua in a British collision for the ages but Oleksandr Usyk showcased what can happen if folks are taken too lightly.
Fury has felt the power of Wilder in the past and he was able to take advantage of that in the rematch, knowing that even if Deontay knocked him down, it was going to take a hell of a lot more than that to actually knock him out cold.
Wilder seems to be obsessed with the idea of reclaiming his crown and, to be blunt, why wouldn't he be? He's thrown out excuse after excuse to try and explain away what happened when in reality, he was just beaten by the better guy on the night.
We think he's going to have some early success here with the Brit potentially even being dropped in the first few rounds. Alas, so long as Fury is on the ball and doesn't lose track of the objective at hand, he should be able to recover and eventually take over in pretty much every department of the fight.
Something tells us he's going to be a little bit more conservative than he was last February and that's not exactly a bad idea against someone like Wilder.
It'll go to the scorecards and provided there isn't another screw job, Tyson Fury will retain the belts and set up a future date against either Usyk or Joshua.
Official Prediction: Tyson Fury wins via unanimous decision