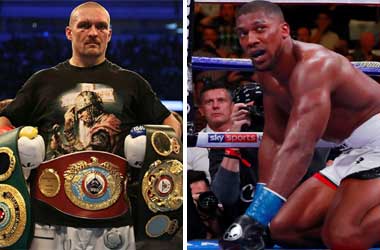 Anthony Joshua ended up losing his WBA, IBF and WBO heavyweight belts to Oleksandr Usyk on September 25 in front of his home fans at the Tottenham Hotspur Stadium. The two boxers went the distance and did 12 rounds and Usyk came out with a decision win.
The Ukrainian went in a big underdog against the champ Joshua but showcased some great boxing skills, dominated the fight and made a lot of money for those who bet on him.
Joshua was in pretty good spirits even after losing his fight and has now triggered the rematch clause that was part of their initial contract. This does not come as a big surprise as Joshua did tell the media after the fight that he 100 percent wanted to get back into the ring with Usyk.
While the first fight took place in the UK, the push is now to move the second fight to the Ukraine and let Usyk have the home advantage. Usyk's camp is pushing for the rematch to take place in Feb 2022 in the Ukraine but Joshua's manager Eddie Hearn is not very keen to fight in the Ukraine.
Sky Sports Boxing
Usyk has welcomed the rematch as he is happy to defend his WBA, IBF and WBO heavyweight titles against Joshua as he is confident that he can beat him twice. Joshua has only lost twice in his career till date.
The first time was at the hands of Andy Ruiz Jr. and he triggered his rematch clause, came back and defeated Ruiz Jr. and got back his belts. Joshua said the 12 rounds with Usyk was great for his lungs and he is ready to take that momentum and get straight back into training.
Joshua vs. Fury Not On The Cards For Now
Joshua was in talks to fight Tyson Fury but those talks were shelved after Fury was forced to sign a contract to fight Deontay Wilder for a third time. The plan was for Joshua to beat Usyk and for Fury to beat Wilder and then the two British boxers fight in what was being billed as the biggest heavyweight fight in decades.
This fight does not look like it will happen anytime soon as Joshua needs to beat Usyk in the rematch and Fury needs to beat Wilder for the two of them to have another opportunity to fight each other.