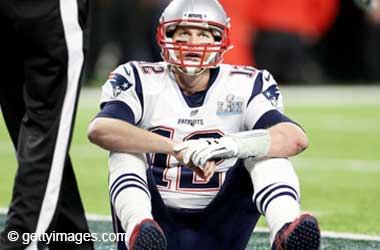 New England Patriots quarterback and reigning NFL MVP Tom Brady confirmed in a post-Super Bowl LII interview that he's ready and willing to return for another season despite him turning 41 years-old. That will be good news for the Patriots who lost to the Philadelphia Eagles on Sunday.
However for the Patriots to return to the Super Bowl next season they will have to work out several on and off the field issues. The first issue that would have to be addressed is finding a replacement for offensive coordinator Josh McDaniels who is set to become the next head coach of the Indianapolis Colts, replacing Chuck Pagano who was fired after the regular season ended.
Under McDaniels, Brady has put up amazing numbers. This season alone the Comeback Kid led the league in passing yards (4,577) and threw 32 touchdowns to only 8 interceptions. Brady also led the league in postseason passing yards and touchdown passes. Currently there is no news on who the Patriots have in mind to replace McDaniels.
MassLive
The next and perhaps most pressing issue the Patriots would need deal with is how to deal with the apparent strife between Brady, Head Coach Bill Belichick and Brady's 'body coach' Alex Guerrero. While Brady has gone on record stating that Guerrero's TB12 method is the main reason why he can still play at the level he currently plays at, Belichick has tightened the reins on who Guerrero is allowed to treat within the Patriots.
This has lead to a disconnection between the head coach and quarterback as Belichick sites complaints from Patriots medical and training staff as reasons for reducing Guerrero's role within the organization. Guerrero is no longer allowed to fly on the team's charter jet for road games and has reduced sideline access during the games. If Brady and Belichick are to continue to have a working relationship, then this situation must be dealt with before it gets worse.
Lastly the Patriots will have to deal with finding a suitable successor to Brady. The 40-year-old MVP has two years left on his current contract and has stated that he would like to play till 45. However the Patriots will be taking a huge risk if they don't groom someone else to take Brady's place.
The Patriots will be happy to see both Brady and Belichick present for another season but owner Robert Kraft will have to start working on re-placements if the Patriots are to continue to be a major force in the NFL.