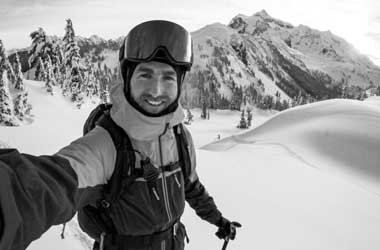 Summary
Kyle Smaine killed by avalanche in Japan while he was skiing
Smaine ignored avalanche warnings by Japanese authorities
Smaine's wife shares emotional Instagram post and says goodbye
American World Skiing champ Kyle Smaine retired from professional skiing in 2018 and completed a 10 year professional career that included some amazing accomplishments which included winning the 2015 Snowboarding World Championships and the FIS Freestyle Ski in 2015.
Smaine Killed By Avalanche In Japan
Kyle Smaine who has close to 30 thousand followers on Instagram kept them aware of his recent trip to Japan which revolved around a marketing campaign. He and a bunch of his friends enjoyed skiing the slopes during the trip and were set to return to the United States.
The 31 year old Smaine decided that he wanted to do one more trip at Mount Hakuba Norikura before he left Japan. It was a risky decision given the fact that the authorities had warned individuals in the area that there was a risk of an avalanche given the heavy snowfall in the last few days.
From Smaine's Instagram posts you can see that he was always one to seek adventure and he decided that it was worth the risk to ski the slopes on Mount Hakuba Norikura. It turned out to be his last ride as he along with a few other skiers got caught in a huge avalanche that eventually ended claiming his life.
Grant Granderson, who is a photographer for the Mountain Gazette said that decided to stay behind and remain at the base camp instead of joining professional skier Adam Ü and Smaine at the top who wanted one last run. Adam Ü and Smaine met with another group of Austrian skiers who decided to take another route on the slopes.
Adam Ü, Smaine and a third skier took a different route and got caught in the avalanche. Adam Ü was buried in snow for 25 minutes but escaped with no injuries but Smaine and the third skier lost their lives.
Smaine's Wife Shares Emotional Instagram Post
Smaine's wife, Jenna Dramise shared on Instagram that very few people knew that they got married on 18 Nov, 2022.
Dramise wrote
The best damn years of my life. I know you had the best runs in your life out there in Japan and could never blame you for doing what you loved. I do wish I could tell you that one secret I always had, that I loved you. It never really was a secret because I said it at least 10 times a day to you. I can't wait to see you again. Love your Wife.
Legitgambling.com extends our deepest sympathy's to his family and loved ones after this tragic event.