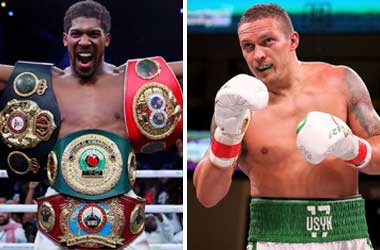 From the weird and wonderful world of celebrity boxing to the intensity of wanting to be known as the "baddest man on the planet".
There are very few forms of combat that provide the kind of excitement heavyweight boxing does and on September 25, we'll see another chapter written in this historic division as Anthony Joshua defending the WBA (Super), IBF, WBO, and IBO heavyweight titles against undefeated Ukrainian powerhouse Oleksandr Usyk.
The fight will go down at the Tottenham Hotspur Stadium in North London, serving as the first major boxing event with a capacity crowd in attendance since before the COVID-19 pandemic – in the United Kingdom.
It's set to be a lively night at the office and while there's a clear favourite in the eyes of many, there's a chance that we could see more than a few surprises in the capital.
Best Betting Sites To Bet On "The Perfect Storm" Bout
Wasn't Joshua Supposed to Be fighting Fury?
It's no secret that this was not supposed to be the fight that happened this year with a summer meeting between Anthony Joshua and Tyson Fury initially being touted for Saudi Arabia. Both men were on the verge of signing the contracts when a court of arbitration ruled that Fury must instead battle Deontay Wilder for a third time, leaving Joshua out in the cold.
Usyk, who was seemingly willing to stand aside for the right kind of payday, decided to cash in his "mandatory challenger" status to set up this blockbuster showdown.
As previously noted, there's another fight happening pretty soon that could have lasting consequences alongside this one – Tyson Fury vs Deontay Wilder 3. That will occur on October 9 in Las Vegas with many believing, by default, that Joshua vs Usyk is almost a "semi-final" in this mini-tournament that seems to have emerged.
The powers that be in the boxing world will ultimately decide what's next for the victor and loser, but the stakes are still fairly high.
DAZN Boxing
Things to Watch For
* Odds have been provided by Bet365 and are accurate as of 14/09/2021
Anthony Joshua (24-1)
Current Odds: 1.36
Anthony Joshua has been through a few wars in his day but after the setbacks and the taunting from rivals, he's come out the other side of it all as one of the poster boys of boxing in this country – and across the globe. The UK bettors gets behind AJ every single time he steps between those ropes and as his career goes on, he seems to be progressively enjoying himself more and more, as opposed to always looking for a way out.
The Andy Ruiz defeat triggered something deep in Joshua that led him to win the rematch before violently dispatching Kubrav Pulev, reminding the world why he's such a force of nature when he wants to be.
Joshua has an elite ability to combine power with precision and when doing so, he rarely lets his foe get the better of him. Speed has always been a bit of a weak area especially when put up against smaller guys, but he always backs his firefight gumption and that's what he needs to fall back on if things start to look sketchy in there.
Oleksandr Usyk (18-0)
Current Odds: 3.20
Oleksandr Usyk, much like his opponent Joshua, won Olympic gold at London 2012 – in the heavyweight division as opposed to super-heavyweight. It was the kind of result that was always going to catapult him into a promising professional career and after making light work of his fellow cruiserweights, he finally decided to jump up and challenge the big boys.
The wins over Chazz Witherspoon and Derek Chisora should really go down as unofficial warm-ups and that isn't us being harsh, it's us being realists. Usyk was always going to be facing an uphill climb at this level and the good news for him is that many are underestimating what he's capable of.
Usyk feeds off of being the smaller, faster man in the eyes of the judges and that's what he has to be if he's going to prove successful. The power punches are all well and good but one look at Joshua's Ruiz defeat tells us that he doesn't enjoy being swarmed. If we can see that as spectators, you can bet Usyk sees the same thing.
Prediction
The great thing about a fight like this is that we're going to see a unique clash of styles which, at this level, is always an intriguing prospect. The big "aim of the game" here is going to be about setting the pace early because there's just something that tells us these two gentlemen aren't going to be foolish enough to go hell for leather after a knockout in the early stages. Usyk knows he has to be incredibly convincing in his performance if he's going to get his hand raised on enemy soil which is why we're backing him to move in and out with slick combinations from the word go.
By the time we get to the six-round mark, there will probably be a consensus narrow advantage for Usyk on the scorecards, but the manner in which Joshua fights should ensure that nobody is blown out of the water before we reach the second half. From there we expect Joshua to do what he does best and dig deep, feeding off of the crowd in the process. We don't exactly believe in the idea that the occasion is going to get to Usyk because he's been on big stages before, but we do anticipate that he'll tire at heavyweight in a more dramatic fashion than what many anticipate.
Our official prediction is that Joshua will eventually overwhelm Usyk and secure a unanimous decision win, taking him one step closer to a mammoth unification bout.