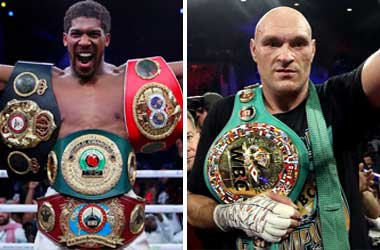 Eddie Hearn told boxing fans in March 2021 that both Anthony Joshua and Tyson Fury had signed a contract to fight each other. Hearn is the promoter for WBA, WBO, IBO and IBF Champion Anthony Joshua asked fans to be patient as he was working to finalize the dates and venue for this historic fight against Tyson Fury who is the WBC heavyweight champ.
Hearn confirmed that there was interest from multiple locations which included Las Vegas, New York, Los Angeles, Dubai, Abu Dhabi, Saudi Arabia and the United Kingdom. Both Anthony Joshua and Tyson Fury are British fighters and UK fans were very keen on seeing them both fight on British soil.
However, British fans will most likely have to be content on seeing the fight on pay-per-view as it looks like Saudi Arabia is going to host the fight. Hearn has not yet made an official announcement but unconfirmed reports state that Saudi Arabia has offered to pay a whopping $150 million as a site fee to host Joshua vs. Fury and hence is the front runner to get the fight.
BT Sport Boxing
This huge site fee would guarantee that both Joshua and Fury make upwards of $70 million each for this fight from the site fee alone. There would be other expenses from this site fee which involve setting up the fight and paying the undercard. However, this money is only from the site fee as there is still the pay-per-view revenue to be accounted for.
Historic Fight For Boxing Fans
This fight is going to be the biggest boxing fight in UK history and also in world boxing. Promoters expect this fight to create a new boxing pay per view record and sell out over 3 million buys. There is also talk that the pay per view rate for this fight will be raised to £29.95.
BT Sports and Sky Sports will also create history in the UK as they are expected to both offer the pay per view – something that has not been done before in the country. In the United States, ESPN will offer the pay per view and DAZN will have streaming rights. This could very well push the final purse for both fighters to over $100 million each.
The dates being discussed for this fight are 24 and 31 July or 7 August as Fury is keen to fight as soon as possible!