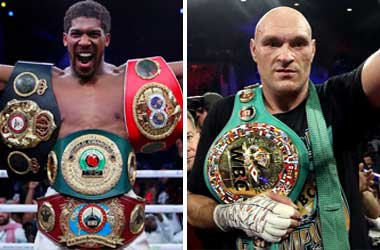 The sport of boxing has suffered during the last couple of decades as promoters have struggled to put together the biggest and best fights that the fans have wanted to see.
This is one of the reasons why fights between professional boxers and MMA stars and professional boxers and social media stars are generating more interest than genuine boxing matches.
When Floyd Mayweather and Manny Pacquiao finally clashed in May 2015, it turned out to be a disappointed and one of the reasons for that is because both fighters should have fought each other about four years before.
Boxing fans have been eager to see a heavyweight fight between two of best heavyweight boxers in the UK and the world. Anthony Joshua and Tyson Fury have taken shots at each other over social media and teased that they were going to put pen to paper and sign a contract.
ESPN Asia
Eddie Hearn who is the promoter for Anthony Joshua confirmed on March 15 that the two fighters have finally signed a two fight contract. The date and the location for the fight will be worked out in the next few weeks. The promoters would dearly love to hold this fight in a packed stadium and hence a lot of factors need to be worked out due to the COVID-19 situation.
A number of countries have already thrown their hats into the ring to host this blockbuster fight. Some of these countries include America, China, Qatar, Saudi Arabia, Singapore, Dubai and the United Kingdom. The best case scenario would be to host the fight in the UK as both fighters have a massive fan base in the UK.
Is Fury Underestimating Joshua?
Anthony Joshua is the WBA, IBF and WBO champion who will look to take it all by beating WCB Champ Tyson Fury. Fury has shown no respect for Anthony Joshua in recent months belittling him on social media and recently saying that he would be able to beat Joshua even after having a few drinks.
Joshua has so far not fallen for the smack talk and has preferred to take the high road. There is no doubt that the Gypsy King will continue the thrash talking and playing mind games in the lead up to the fight. We will give you more information on this fight once the date and venue is confirmed.