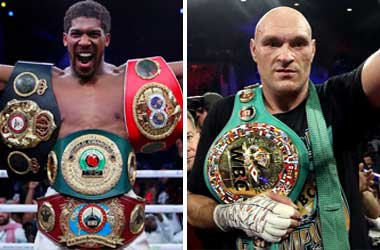 If you ask true boxing fans around the world which fight they are looking forward to the most in 2021, most of them are going to say Tyson Fury vs. Anthony Joshua. British boxing fans are unanimously going to say they want to see both of the best heavyweights in current British boxing step into the ring.
Fury is the current WBC champ while Anthony Joshua has the IBF, IBO, WBA and WBO belts. The WBO has ordered Joshua to first fight number one contender Oleksandr Usyk next or vacation the WBO belt.
Joshua's camp have already reached out to Usyk's camp to ask them to be patient and wait for their fight because Joshua would ideally like to have a crack at Fury first.
Tyson Fury who is known for being very outspoken is not buying into the rumour that Joshua is asking Usyk to wait so that he can face the Gypsy King. Fury believes that Joshua has confidence issues which is why he has never been too keen to directly accept the fight with him.
The Jonathan Ross Show
Fury believes that he can take advantage of these confidence issues and get the better of Joshua. The Gypsy King lacks for no confidence as he has gone on record to state that he will KO Joshua in the first round or at most the second round.
Fury went on to say that he does not believe that Anthony Joshua is as good as people make him out to be. He said he does not believe that Joshua has the guts to stand and bang with him in the ring and try for a KO. He went on to criticize Joshua and say that his last two performances which he won were not very impressive.
Joshua Keen On Undisputed Championship
One of the reasons for Fury taking a crack at Joshua is because he has never been very eager to accept the fight with Fury. Joshua said that his goal is to be the undisputed champion and that meant going after whoever has the belt. Joshua claims its not about the fighter but who has the belt.
We will know in a few weeks whether Joshua gets booked to face Usyk or whether the camps come to an agreement and see the biggest fight in British history take place in 2021.