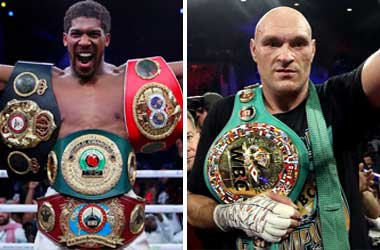 Anthony Joshua went in as a huge betting favorite against Kubrat Pulev at Wembley Stadium over the weekend and showed the world why he is the WBO, IBF, WBA and IBO heavyweight champ. He took apart the Bulgarian heavyweight knocking him down twice in the 3rd round and twice in the 9th round to win by KO.
Boxing fans wanted Anthony Joshua to win as it set up the possibility of him fighting Tyson 'The Gypsy King' Fury who is the WBC champ.
The two British fighters have traded barbs on social media in recent months and boxing promoters are eager to put this fight together and what will be the biggest fight in British boxing history.
World Boxing gets flak because of two main reasons. One because the judges can make a mockery of the sport and two because promoters cannot seem to put together the fights fans want to see.
The heavyweight fight between Anthony Joshua and Deontay Wilder was a dream of every boxing fan. Joshua and Wilder went back and forth for a couple of years but never got around to signing contracts. In the end, Joshua ended up losing to Andy Ruiz Jr. and Wilder ended up losing to Tyson Fury. This fight might never get made much to the disappointment of fans.
When Joshua was interviewed after his win against Pulev, he was asked if he was keen on fighting the Gypsy King next. Instead of responding with a loud yes, AJ danced around the question and said it wasn't about the opponent but about the legacy and the belts he can get.
Sky Sports Boxing
Joshua said that since he arrived in 2013 on the world boxing scene, he has been chasing all the belts. If Fury has the belt, he would be willing to fight him.
Fury Promises To KO Joshua Inside Three
Tyson Fury had no problem addressing AJ directly and called him a 'dosser who just shit his pants on live TV'. The Gypsy King made it clear that he not only wants to fight AJ but he wants it to be his next fight. He promised his fans that he would KO Anthony Joshua inside of three rounds.
.@anthonyfjoshua it's a matter of time….. ⏰ ⏰ ⏰ I'll spank you like I did @BronzeBomber 2/3 rounds. #YOUBUMSOSER #letsgetiton pic.twitter.com/7m8A8Je0ui

— TYSON FURY (@Tyson_Fury) December 12, 2020
Boxing promoter Eddie Hearn says he is confident he can put the AJ vs. Fury fight together in 2021.