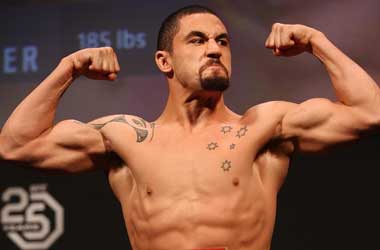 The sport of mixed martial arts (MMA) has grown in leaps and bounds in Australia thanks to the Ultimate Fighting Championship (UFC) making it mandatory to hold a minimum of one UFC event in the land down under.
MMA fans in Australia will be making their way over to Melbourne, Victoria this Sunday as UFC 234 is scheduled to take place at the Rod Laver Arena on Feb 10.
Robert Whittaker might have been born in New Zealand but the Aussies are more than happy to claim him and have him as their first UFC champ. Whittaker has been side-lined for a number of months due to injury. He makes his return to the Octagon in the Main Event as he will defend his UFC Middleweight Championship against Kelvin Gastelum.
Whittaker goes in as the favourite because he is the champion and also has the skills and the cardio to beat Gastelum. The American fighter's biggest chance at winning this fight is to KO or TKO Whittaker and that will be hard to do given the fact that Whittaker has proven he can take a punch.
UFC – Ultimate Fighting Championship
Whittaker is stronger in all the other departments including striking, grappling and take down defence. If the fight goes past the third round, Whittaker will have quite the advantage because of the better cardio. Expect Whittaker to retain his title at UFC234.
Co-Main Event: Anderson Silva vs. Israel Adesanya
The GOAT Anderson Silva makes his return after a long absence and he will be fighting Kiwi Israel 'The Last Style Bender' Adesanya. If you are new to MMA, you might not be familiar with Anderson Silva as he hasn't fought a lot in the last couple of years.
However, the Spider will go down into the record books and into the UFC Hall of Fame. Silva decided to accept the fight against Adesanya because UFC President Dana White promised him a UFC Middleweight title shot should he win. Silva will have to be at his best to take down Adesanya who grew up idolizing him. Adesanya currently has a 15-0 record in MMA.
Apart from the Main and Co-Main Event, there are a number of other cool fights on the card. Some of them include Sam "Smile'n" Alvey vs. Jim Crute; Nadia Kassem vs. Montana De La Rosa and Rani Yahya vs. Ricky Simon.