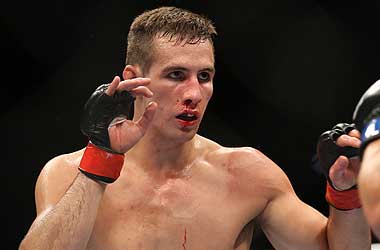 When it comes to Mixed Martial Arts (MMA) in Canada, very few will argue that Rory McDonald is the second best fighter after George St. Pierre. The 28 year old McDonald comes from Quesnel, Canada and made a name for himself in the Ultimate Fighting Championship (UFC) by having some epic fights and coming ever so close to winning the Welterweight title.
The Red King left the UFC and joined competitor Bellator in 2017 and started his Bellator career with a win. On Jan 20, McDonald stepped into the cage to fight for the Bellator Welterweight championship and took on the champion Douglas Lima in what was billed as a co-main event.
McDonald and Lima had a gruesome fight and in the initial rounds it looked like the champion had the better of McDonald as he found his range, especially with his leg kicks that found their mark and immediately created a massive swelling on McDonald's left leg. At one stage the swelling was so great that it looked like Rory was fighting with a broken leg. However the Canadian MMA pro did not let his swollen leg get in his way and he used all of his experience and mental grit to launch a fightback and ended up taking the champ to the mat. McDonald was vicious in his ground and pound game, throwing elbows and doing a lot of damage from the top.
MMAWeekly.com
The fight went to a decision and the judges scored it unanimously in favour of Rory McDonald who became the new Bellator Welterweight champion. McDonald had to leave the arena in a stretcher and be taken to the hospital for tests. The doctors would later determine that his leg wasn't broke and he was dealing with a large and painful hematoma.
McDonald received massive tributes from the MMA community for his grit and tenacious performance. GSP also paid tribute to his fellow Canadian MMA fighter and Rory's win will do wonders for MMA in Canada as this is the second MMA title that Canada has won in the space of few months. GSP made his return to the Octagon late 2017 and defeated UFC middleweight champion Michael Bisping to win the belt.
In a statement, McDonald said
This is truly a dream come true, I set out on this martial arts journey when I was 14yrs old and without any doubt I know I wouldn't be here if it wasn't for the grace of Jesus Christ. He humbled me to be ready to receive this belt. I give all the glory for this moment to Him, for my beautiful family, my friends and supporters